The remote work system is a new model of work. As remote work mode grows in popularity, more attention is being paid to creating a well-established work system. Business managers are emphasizing employee engagement in a hybrid work model. For example, how to increase the interactivity of participants when conducting video conferences? IQ can provide you with more ideas. And help you build a more suitable smart meeting room. You can also click here to get more information.
1. Why you need to increase engagement
When engagement within an organization is increased, everyone respects and trusts each other. Just like many businesses choose the brainstorm. To gather more good ideas from employees. It also helps employees to have a common goal in working together. Thus, improving engagement can increase productivity and profitability. What's more, it can reduce turnover.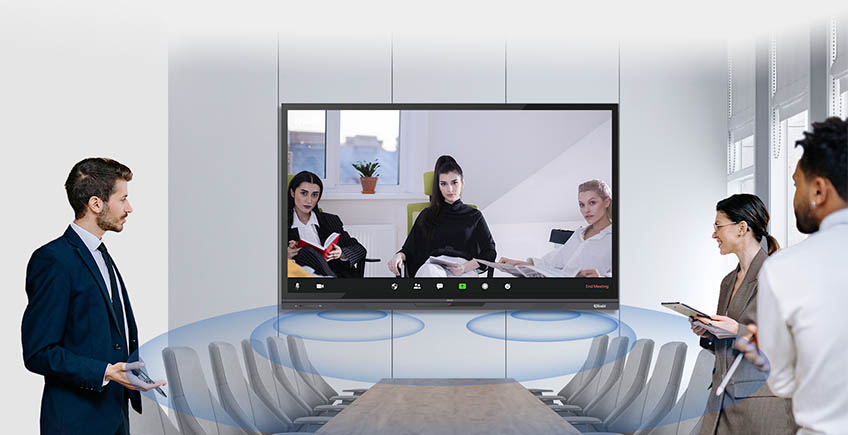 2. How to improve engagement
Setting the same goals for individuals and organizations is conducive to increasing engagement. What are the aspects that need to be taken into account to influence the setting of goals?
First, company goals and management strategies are critical. For example, managers should have good communication with their team members. Help employees clarify the meaning of their work. The aim is to make employees realize the importance of personal growth goals in their work. Besides, gradually deepen employees' understanding of their work goals. The purpose is to make the employees more responsible and help the company gain growth. After clarifying the goals, the next step is to share goals with team members. Tell them the significance of why the goals are important.
3. 5 Tips for Improving remote work Engagement
When remote work is compared to working face-to-face. There is a need to be more intentional about increasing engagement. Here are 5 tips to help increase engagement.
3.1 Let employees organize their tasks
If people can decide what to do, when to do it, and how much time to spend on each task, then stress is reduced. To increase engagement, managers should focus on how to make them more time conscious. Switch from managing employees to helping them work autonomously. Employees working independently will not only increase productivity. It also increases the level of employee conscientiousness. Managers can use online tools to visualize the progress of each team member.
3.2 Give people the right job
What we all know is that when people do a job they don't like. And the people's engagement naturally decreases. Overall, putting the right people in the right places can increase productivity. Even when working remotely, be sure to communicate frequently. To confirm your employees' attitudes toward their work. It's difficult to capture clear facial expressions and body language when working remotely. Thus, purposeful communication is important. If an employee is feeling tired, communicate promptly. And recognize the value of the employee.
3.3 Check the results in many ways
Results come naturally when employees utilize their talents. Believe in the autonomy of each team member. Check based on the results produced. To better assess the results, the responsibilities and expectations of various job roles can be defined in advance.
3.4 Engage in more communication
To better build trust with employees. Managers need to listen to everyone's ideas. And coordinate organizational and personal goals to grow together. Since it is difficult to communicate casually when working remotely. So the mode of one-on-one meetings can be arranged. This one-on-one communication is common in team-building methods.
3.5 Recognize Everyone's Efforts
To increase engagement, remember to recognize and praise employees for their efforts. And do this in a public place whenever possible. When holding a video conference with the entire team, which a good chance to recognize everyone's efforts and accomplishments. Being recognized on the team is crucial to increasing engagement.
4. How to set up a smart meeting room
There are very many smart meeting room solutions at IQ here. The aim is to be able to customize the product to the needs of the client. In the case of manual studios, IQ offers interactive flat panels, ptz cameras, and microphones. These products help people to build a higher-level studio. And IQ can offer realism when conducting video conferences. Providing a higher quality picture, clearer sound, and a larger screen to improve engagement. It helps employees feel like their coworkers are in front of them when they are video conferencing. And IQ's wireless screen transfer system helps you share your screen more easily. All you need to do is to press a button to send the screen wirelessly. And it can support four screens interacting at the same time. To improve the interactive of the online meeting.
Add: For meeting rooms of all sizes, IQ offers complete conferencing systems. Intelligent meeting room solutions offer a wide range of options. Including Next Gen, The Auditorium, The Studio, The Ideation Hub, The Vibe, and so on. And the most important point is that- easy. The products are easy to install and manage. We can offer the most suitable solutions according to your needs.
Summary
With the rapid development of technology, remote work will become easier and easier. More tools are available to help people realize the hybrid working mode. No matter which way of working, employee engagement is always the most important. To better help managers and employees adapt to working remotely, IQ can offer a variety of ways to do so. If you are struggling with how to improve your work patterns. Contact us, and IQ can give you more professional advice.