People are using more tech products for the betterment of the educational environment. That's why tech products and smart solutions are continuing to change the model of how we learn and teach. Schools are increasingly looking for new tech trends. And schools are looking for opportunities to transform the campus experience. Because people's attention moving to a learner-centered model of teaching and learning. This model increases student engagement and encourages active learning. Teachers are also benefiting from this model as more tools emerge to support their teaching development. IQ has seventeen years of experience as a smart education solutions provider. So we've come up with a list of four ed-tech trends. We hope these tips will help provide more inspiration as you upgrade your campus.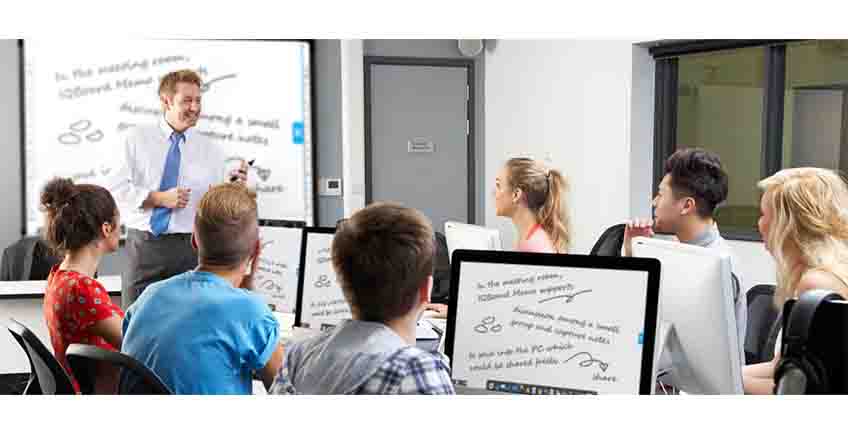 1. Hybrid learning supports more active learning
Hybrid learning models are becoming more common. And more educators using web conferencing and collaboration tools to deliver lessons. As many students return to the classroom, the need for educational technology remains. The demand for blended learning models is also increasing. A more immersive approach is needed to capture student attention and increase engagement. Innovative methods that can utilize the latest virtual reality technology. Tech products allow students to connect virtually in real-time with other areas. For example, IQ's recording system not only enables a blended learning model but also resource sharing. IQVideo Lecture Capture System LCS710 supports one-click recording and live streaming. Students can receive content from the classroom in real-time via YouTube and Facebook. IQ's lecture capture system supports RTMP and RTMPS protocols. This means that the system can support live streaming on all platforms as long as supports these two protocols. Shortly, hybrid classrooms will be the norm, andhere IQ's lecture capture system will be the perfect tool for you. Schools can greatly improve the efficiency of teaching and learning by choosing a suitable product.
2. More smart schools will be built
As technology evolves, more integration and seamless connectivity for campuses and classrooms. For example, with IQShare WP40, a wireless presentation system, it is possible to share students' computer's screen with interactive displays in the classroom. The WP40 includes a small box and a dongle. We can offer 3 types of dongles for users to share screens. The signal is more stable when using a dongle for screen casting than when using software. This tool enables students to share their ideas and increase interactivity. Technology products provide students with more freedom to interact and think creatively together. Using Q-NEX key products, NMP, also makes it possible to manage displays across the campus. It is no longer necessary for students to gather in the playground when the headmaster gives a presentation. The headmaster delivers the speech from his office and the interactive displays in all the classrooms are ready to show the content. Emergency announcements can also be made when necessary. For example, fire alarms.
3. Technology products help to spread education
We have to admit that in some areas teachers are not well qualified. Without technology, the gap between education levels would be wider and wider. Public libraries provide equal access to information. Similarly, schools need to step up their efforts to provide students with equal opportunities for education and emerging technologies. This goes beyond providing single computers. It needs to instruct students on how to use smart devices in meaningful ways to achieve their best learning. For example, you could use an interactive flat panel and lecture capture system in the classroom to build a hybrid model. This type of interaction enriches the classroom and records the lesson. The recording system supports different channels for recording lessons. This means that you can choose what you want to record in terms of pictures and sound. The recording will generate different files for you to share. In other words, one of the biggest benefits of interactive technology is that it helps students take control of their learning.
4. A new sharing platform for educators
Educators often look to several social media outlets for new teaching inspiration. But there isn't one that is an online community for classrooms created for teachers. The dynamics of our cross-campus connections continue to change with the advent of new technologies. And new technologies also create possibilities for responsible innovation. Digital technology offers unprecedented ways to transform the learning experience. Schools need to provide the suitable smart devices and systems to meet the demands of new learning environments.
In summary, smart schools have become the norm model and more smart campus will be created in the future. The essence of smart schools is to improve student engagement and interaction in the classroom. Choosing suitable tools is important in improving the learning environment. And IQ has a wealth of experience as an education solution provider. Our IQVideo recording and Q-NEX centralized control systems are essential products for building smart schools. Recording and broadcasting can be done for course recording and online live broadcasting. This product not only allows for hybrid learning but also supports the sharing of educational resources. Q-NEX allows all interactive products to be managed remotely and broadcasted in a unified way. This reduces the daily workload and duplication of work for school IT administrators. Most importantly, IQ brings more possibilities for student learning. It helps to reduce the workload of educators while bringing more learning options to students. If you are considering upgrading your campus environment, IQ can provide you with more inspiration. Please do not hesitate to contact us.