With the rapid development and progress of information technology, people's demand for efficient and convenient business communication is increasing. Traditional multimedia conference rooms are gradually unable to keep up with the development of enterprises. Under the circumstances, smart conference rooms have emerged and they are revolutionizing the way organizations conduct meetings and presentations. The innovative conference environment aims to provide a more efficient and intelligent business communication experience. Consequently, Smart Conference Rooms have become an indispensable and important part of the modern office for enterprises. Equipped with cutting-edge technology and advanced features, intelligent conference rooms offer a range of benefits that enhance efficiency, productivity, and collaboration. From intuitive control systems to interactive displays, Smart Meeting Rooms are transforming the way we work and communicate, making business meetings more effective and engaging.
1. The Benefits of Smart Meeting Rooms Include:
· Boost Productivity
Smart Meeting Rooms are equipped with collaboration tools that allow team members to work together more efficiently. With the integration of cutting-edge audio and video technology, participants can communicate with each other seamlessly. This eradicates traditional meeting barriers, such as noisy backgrounds and visual opacity, and enables participants to exchange information effectively and efficiently. By eliminating the need for complex set-up and installation, participants can easily connect to the room's audio and video equipment using wireless connectivity, saving time and reducing frustration. For example, they can use Interactive Flat Panel Displays, Video Conferencing, Screen Sharing, and other tools to facilitate productive communication and collaboration in real time.
· Enhance Engagement
The innovative conference room's video conferencing system allows attendees to participate remotely and interact with other attendees from wherever they are. This will not only increase participants' participation but also reduce the inconvenience and loss caused by time and space constraints. In addition, Smart Meeting Rooms are equipped with advanced devices, so that attendees can have a clearer understanding of the meeting content, and can interact and discuss at any time. Participants can use the Touch Screen to present their ideas to other participants by hand, sketch, and picture, thus enhancing the initiative and enthusiasm of participants.
· Offer Flexibility
Smart Conference Rooms provide an extremely flexible meeting environment that can be adapted to a variety of needs and purposes. The smart conference room can provide flexible settings and configurations based on the size, type, and number of participants of the meeting to meet different purposes and needs. In addition, intelligent conference rooms also support a variety of meeting forms and activities, such as face-to-face meetings, remote meetings, video conferences, training, presentations, etc. Individuals can increase their productivity and achieve a better work-life balance by reducing the time spent traveling via trains, planes, and cars. This not only helps in eliminating the pressures associated with excessive business travel and commuting but also makes it easier for individuals to attend both internal and external meetings. From business meetings to academic seminars, from technical exchanges to customer presentations, intelligent conference rooms can provide a flexible meeting environment and technical support to meet a variety of needs and purposes.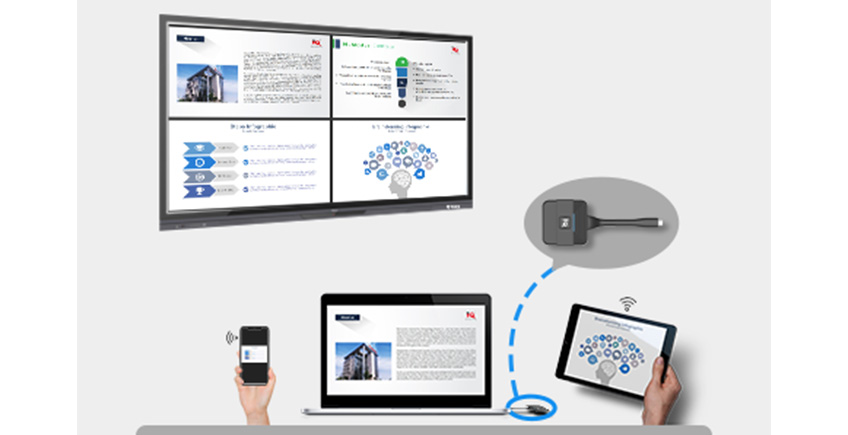 2. Key Things to Include in Your Smart Conference Rooms
· High-quality Audio and Video System
Audio and video conferencing can benefit businesses by providing seamless and intuitive user experiences with specialized equipment such as high-definition cameras, microphones, and speakers. A high-quality audio system ensures that everyone in the meeting room can hear each other clearly, without any distortions or background noise. It can pick up even the slightest nuances in speech so that no information is lost. This is especially important for remote meetings, where the audio system must be able to filter out background noise from other sources. Therefore, using inferior conferencing equipment like IQConference Camera and JoinGroup AVS200 enables participants to disengage from the meeting and multitask. High-quality audio and video systems, like those found in smart meeting rooms, can create a face-to-face communication effect, improving the efficiency and convenience of business discussions. These systems are also flexible and can be set up to accommodate varying numbers of meeting participants.
· Interactive Displays
Interactive displays provide an effective way to present information using a variety of media tools. By mirroring content from tablets, mobile phones, or laptops onto the show for a larger view, making it easy for everyone in the room or remote to see. The user-friendly interface of IQTouch Interactive Display makes presentations more engaging and comprehensive, resulting in a more productive meeting environment. The visually appealing interface of the touch screen also increases engagement levels during collaboration. IQTouch Interactive Flat Panel HA1100 Pro is equipped with built-in cameras and microphones, making it easy to set up video conferences and hybrid work environments. Additionally, multiple presenters can cast their documents onto the display simultaneously, making it easy to collaborate without any cord hassle.
· Wireless Presentation
Equipping meeting rooms with wireless presentation devices is an efficient way to enhance conferencing capabilities, improve productivity, and foster better client communication. This technology enables the BYOM (Bring Your Own Meeting) strategy, which is gaining popularity among businesses. By eliminating the need for cables, attendees can easily switch between presenters and share content on the air, resulting in more dynamic and engaging discussions. With a wireless presentation device like IQShare WP40, there is no need for cables and wires, creating a clean and organized meeting space that enables seamless connections to your network. This device ensures that team worker can easily present their content from their devices to everyone in the room, saving time and reducing technical difficulties.
With the increasing accessibility and quality of video calling technology, more and more companies are transforming their traditional meeting rooms into smart, video-enabled spaces. Video conferencing has become an essential part of modern business communication, and smart conference rooms make it easier than ever before to connect with remote team members. IQ Smart Meeting Rooms are equipped with advanced video conferencing devices that enable seamless collaboration between employees. Contact us to enjoy a customized innovative conference solution that maximizes team potential and fits seamlessly into business, boosting productivity and collaboration.