Introduction
Remote meetings have become an integral part of our daily work routine, and it's important to have a reliable and easy-to-use video conferencing solution. Are you tired of mediocre video conferencing experiences that leave you feeling disconnected from your remote team members and clients? As remote work becomes increasingly common, having reliable and high-quality video conferencing equipment is essential. The meeting room camera is specifically designed to meet the needs of remote workers, delivering exceptional video and audio quality, ease of use, versatility, and affordability. In this article, we will explore the key features of the IQMeet Conference Camera, and how it addresses the user requirements of remote workers in today's digital age.
1. How Does IQMeet Conference Camera Meet User Needs?
In today's digital age, remote work has become the norm, and video conferencing has become an essential tool for professionals. Due to the growing trend of remote work, there is a higher demand for video conferencing tools of superior quality. People want to feel connected to their team members and clients, even when they're miles apart. With an abundance of video conferencing options available, selecting the perfect one can be daunting. Fortunately, the IQMeet Video Camera is expertly crafted to meet the needs of remote workers and elevate their work experience. The camera has been created to provide an exceptional video conferencing experience that is as close to an in-person meeting as possible. It addresses the following user requirements:
Clear Video and Audio:
A high-quality video conferencing experience requires clear video and audio. IQConference Cam delivers both. The camera features a high-definition lens that captures clear images, while the built-in microphone array ensures that everyone's voices are heard loud and clear.
Easy to Use:
People want technology that is easy to use. The IQMeet Conference Webcam is designed with simplicity in mind. It can be set up in minutes and is compatible with all major video conferencing platforms, including Zoom, Skype, and Microsoft Teams. The camera also comes with a remote control, making it easy to adjust settings from a distance.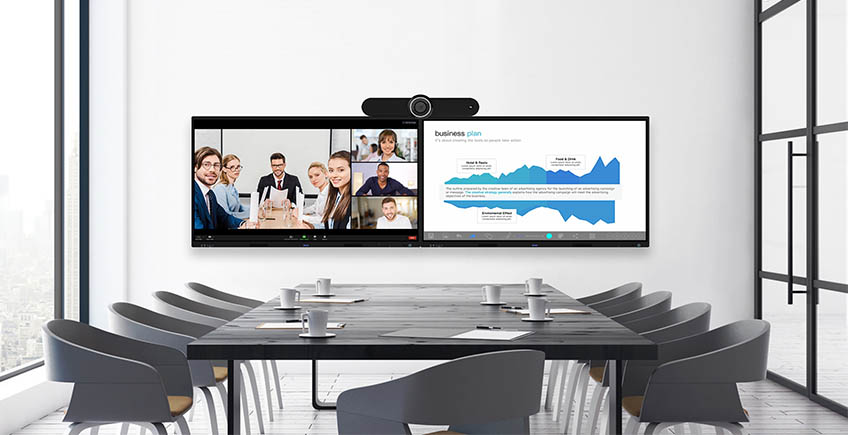 Versatility:
The long-range conference camera is designed to be versatile. It can be used in a range of settings, from small home offices to large conference rooms.
Cost-Effective:
Many remote workers are looking for cost-effective solutions to their video conferencing needs. The IQMeet Video Camera is an ideal option. It is competitively priced and provides an excellent video conferencing experience that is comparable to more expensive solutions.
2. Key Features of IQMeet Conference Cam CV810 Pro
Crystal-Clear Video Conferencing
The 12x optical zoom lens with automatic focus ensures that everyone in the meeting is in focus. At the same time, the unparalleled 4K UHD image quality delivers ultra-clear images even from a distance. With its advanced auto-focus technology, the camera can quickly and accurately focus on the speaker or any other subject in the room. This feature alone makes the conference camera a must-have for any remote team looking to improve their communication and collaboration.
Super-Silent PTZ Camera
The IQMeet Conference Cam CV810 Pro features a super-silent PTZ (Pan-Tilt-Zoom) camera that rotates smoothly and quietly to capture every angle of the room. This is particularly useful in situations where multiple people are speaking or moving around the room. Distracting background noise can make video conferences a challenge, but with the conference camera's super-silent PTZ camera, you can be sure that your meetings will be distraction-free. The low noise and high signal-to-noise ratio (SNR) ensure that your voice is heard loud and clear, without any interference.
Built-In Gravity Sensor for Auto-Reverse
Setting up a conference camera can be a hassle, but IQMeet Interactive Camera has a built-in gravity sensor that makes it easy to adjust the camera angle without additional effort. Simply turn the camera upside down, and it will automatically reverse the image, saving you time and effort. This is useful in situations where the camera is mounted on the ceiling or a high surface.
Preset Anywhere You Want
With IQMeet Virtual Meeting Camera, you can preset up to 255 positions, allowing you to quickly and easily switch between different camera angles with the touch of a button. This not only helps to streamline communication but also optimizes productivity by ensuring that everyone can be heard and understood clearly. By implementing this tool, you can enhance the overall efficiency of your team and improve collaboration in the workplace.
Versatile Ports with Plug-and-Play Simplicity
The conference camera is designed to be easy to integrate into your existing system, with versatile ports that make it compatible with a wide range of devices, including laptops, desktops, and other video conferencing equipment. With plug-and-play simplicity, you can easily set up and start using the camera in minutes, without the need for any additional software or drivers.
IP-Based Management and Streaming
The virtual meeting equipment is designed to be easy to manage, with IP-based management and streaming that makes it easy to integrate into your existing system. And with the ability to stream video and audio over the internet, you can be sure that your remote team is always connected and engaged. This allows you to easily integrate the camera into your existing network infrastructure and manage it remotely, providing greater flexibility and convenience.
Conclusion
Professional video conferencing equipment provides an ideal solution to the challenges faced during remote meetings. Its advanced features make it the go-to option for remote work. By using conference video equipment, teams can increase meeting efficiency and quality, as well as enhance collaboration and communication. With its intuitive user interface and advanced features, IQMeet Video Conference Webcam is the perfect choice for businesses of all sizes looking to enhance their remote meetings and work processes. Make the switch to IQMeet Conference Camera today and experience the difference for yourself.