As IT technology advances and network environments improve, hybrid learning is gaining popularity in educational institutions, training schools, and universities. Hybrid learning offers convenient online and off-line classes involving both in-person and remote learning studentes at the same time without time and location limitations. This article focuses on conducting a hybrid learning using AV equipment here such as interactive flat panels, speakers, microphones, cameras, or video conferencing kits bundled with cameras and microphones. The article discusses two main methods of achieving a hybrid learning: using UC platforms and lecture capture systems.
1.Achieving a hybrid learning
A hybrid learning can be achieved through multiple methods, but it primarily comes in two forms: UC platforms and lecture capture systems.
2.UC Platform for hybrid learning
Various UC platforms can be used to conduct hybrid learnings, such as Microsoft Teams, Webex, Zoom, and others. Before utilizing these platforms, specific devices are required, including an interactive display panel, a PTZ or EPTZ camera, microphones and speakers. Alternatively, a video conferencing kit like IQMeet AVS200 can simplify the setup process, as it provides a plug-and-play solution. With the video conferencing kit, you can easily share your screen from your computer via the UC platform for hybrid learning with students.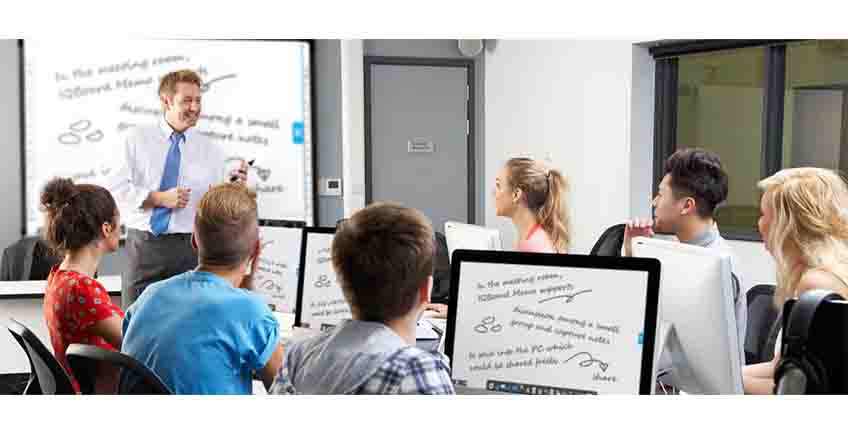 3. UC Platform hybrid learning devices
Hybrid classes can take place in different-sized classrooms, which determines the necessary devices for the setup.
3.1 Interactive display
To ensure clear visibility of teaching content for both local and remote students, the interactive display panel should be large enough to accommodate the hybrid learning sizes. Popular sizes on the market include 65", 75", and 86". An 86" interactive display panel can meet the requirements of various hybrid room sizes.
3.2 Speaker, microphone, and camera
Speakers, microphones, and cameras are essential for creating a hybrid learning environment, enabling remote students to see, hear, and interact with the classroom.
3.2.3 Speakerphone
Speakerphones are usually embedded with microphones. It is advisable to choose microphones with long pickup range and multiple array microphones, suitable for the room size. An excellent option is the IQMeet S330, which features 360° omni-directional sound pickup with a 5-meter pickup distance. Additionally, it offers optional expansion microphones that extend the pickup distance to 6 meters. This flexibility allows easy adjustment for different room sizes, ensuring clear audio capture from participants regardless of their location.
3.2.4 Camera
A reliable camera is crucial for a hybrid learning. An ePTZ camera is suitable for smaller classrooms, while a PTZ camera is preferred for larger classrooms. For example, the IQMeet CV810 PTZ camera offers a 4K UHD image with 12X optical zoom. With a tilt range of -30° to +90°, a field of view of 70°, and a pan range of ±170°, it provides excellent coverage for classrooms of any size.
4. Conducting UC platform-based hybrid learning
With the setup of a PTZ camera, speaker, and interactive display panel in the classroom, you are ready to begin the hybrid class. Simply turn on the interactive display and launch the UC platform, such as Zoom or Microsoft Teams. Access the PTZ camera and microphones to capture sound and images from the classroom, allowing remote students to see and hear everything throughout the hybrid class.
5. Lecture capture system-based hybrid learning
In addition to UC platform-based hybrid learning, a lecture capture system can be an effective option. As it helps create a more immersive and enriched hybrid learning experience for hybrid learning students with better engagement and better learning result.
5.1 What is a lecture capture system?
A lecture capture system consists of two auto-tracking cameras, a video station,and a microphone. Proper setup of these three components is necessary before using the system. For example, start by connecting the auto-tracking camera to the video station for capturing camera images. However, users often find it challenging to set up the auto-tracking camera with the video station due to network configurations. To simplify this process, IQVideo LCS710 lecture capture system offers a plug-and-play solution, requiring only an Ethernet cable to connect the auto-tracking camera with the video station.
5.2 Benefits of lecture capture system
The lecture capture system with auto-tracking cameras and the video station automatically switches focus between teachers and students, providing a panoramic view. This allows hybrid learning students to closely follow both the teacher and students during remote learning. The video station offers four camera views, including a close-up view of the teacher and panoramic views of the students. You can direct the camera view on the video station as needed. Additionally, the LCS710 system provides an extra input source, which can be from a document camera or a computer, enriching the video content for hybrid learning.
5.3 Conducting a hybrid class with lecture capture system
Popular live streaming platforms like Facebook and YouTube can be used for conducting a hybrid learning through live streaming. You can live-stream the video content from the lecture capture system to the desired platform. The LCS710 supports RTMP and RTMPS protocols, making it highly compatible with most live streaming platforms.
By following these methods, either through UC platform-based solutions or lecture capture systems, educational institutions can effectively implement hybrid learnings, combining in-person and remote learning for an enhanced educational experience.
6. Summary
Hybrid learnings are gaining popularity in educational institutions worldwide due to their ability to optimize teaching resources and provide access to a larger number of students, thus promoting educational equality. IQ offers comprehensive solutions for hybrid learnings, including UC platform-based solutions that integrate interactive displays, cameras, and speakers. Additionally, IQ provides a hybrid class option based on lecture capture systems via platforms like Facebook and YouTube. These user-friendly tools enable educators to seamlessly and effectively conduct hybrid learnings. The advanced AV equipment, such as interactive displays, high-quality cameras, and powerful speakers, facilitate effective communication and collaboration among students and instructors. Whether through UC platforms or lecture capture systems, educational institutions can leverage technology to create an inclusive and dynamic learning environment that caters to the needs of all students. The future of hybrid learnings holds tremendous potential in revolutionizing education and opening up new possibilities for learners worldwide.