The term AI is becoming popular. Many businessmen use modern technology as a business strategy concept. With the development of recent years, AI is becoming a trend. This is because AI's capabilities can be used in many ways. It is changing the way we work, search for information, and collaborate. It will do the task automatically. It can also help companies to make the future plan and product development. As an AV production company, IQ, we also get the intelligence of AI. And we have added this new feature to our products. You may be wondering what AI capabilities in AV can improve. This article explains this topic using IQ's latest IFP—HA1100 Pro, as an example. You can also click here for more detailed product features.
1. How to Combine AV and AI
AI can play its role in various industries. It can help people save more time and resources. Its rigorous data collection process can make the way of working more streamlined. It can also improve the accuracy and productivity of a company. We have added the AI camera feature to our latest product IQTouch HA1100 Pro. This camera has Face Auto-Framing and Voice Tracking functions. We also have a wide range of improvements.
1.1 AI Camera
HA1100 Pro is using a unique dual-camera in the world. Why is it unique? We integrate both cameras inside the IFP. One is a 48MP AI camera supporting conference video. The other is a document camera at the bottom of the IFP for content sharing. Both cameras have Auto Focus functions.
·48MP AI Camera
This camera can automatically adjust the picture framing according to the speaker. This is a common feature in many AV products, including the IQTouch TB1100 Pro gen2 version. As well as the Lecture Capture System series and many more devices.
IQ Interactive whiteboard's AI camera uses facial recognition and machine learning algorithms to track the speaker's movements. It remains in the center of the frame as they walk around. This feature is very efficient in large conference rooms or when many participants need to join the discussion.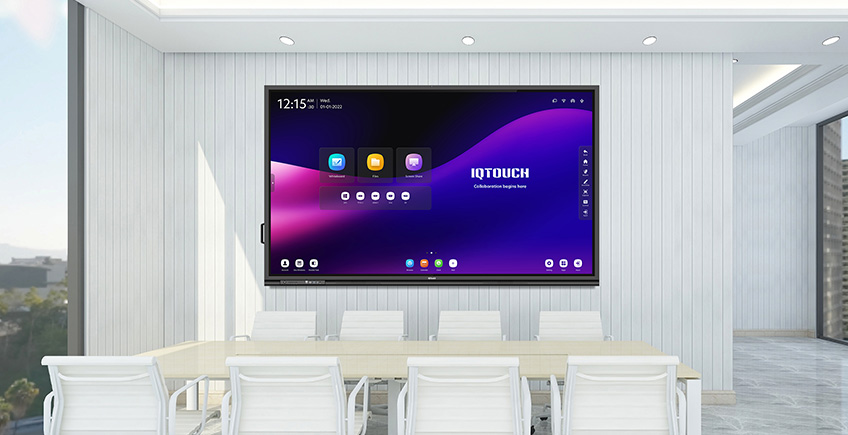 The ability to improve the efficiency of a meeting by adjusting participants' speech on time. By automating the framing process, it eliminates the need for manual adjustments. It also provides a seamless experience for all participants and increases participant engagement. It is able to automatically switch the focus of different speakers while conducting a video conference. Ensures ultra-clear picture quality and adapts to different lighting conditions. Every participant can be seen in conference rooms of all sizes.
·13MP Document Camera
Integrated 4k physical booth for content sharing at the bottom of the interactive flat panel. The breakthrough periscope camera is combined with an autofocus feature. It can capture large formats such as A3 paper. It can also scan QR codes and anything else you want to display. The extra camera brings a one-stop solution to your conference room.
·Built-in AI algorithm microphone
AI technology can also be combined with microphones. The IFP uses many microphones and AI algorithms to analyze the acoustics of the room. And dynamically adjust the direction and focus of the sound waves to a specific location. By eliminating background noise (such as coughs, pencil taps, and even car sounds) and excessive room echoes. Enhanced microphones and speakers ensure long-range pickup and a more immersive acoustic environment. Array 8 microphones support an 8-meter pickup range, echo cancellation, beam forming, and noise reduction. Even in large video conference rooms, audio is clear and powerful. Ensure that everyone in the room can hear and be heard loud and clear.
Adding AI to the AV system greatly enhances the usefulness of the AV system. It adapts to changing conditions in real-time and provides a seamless experience for all participants. No matter where they are or what their environment is. This technology is becoming increasingly popular in large conference rooms, classrooms, and other places. Because these places need clear and accurate audio.
1.2 Natural Language Processing
Natural language processing (NLP) is a branch of artificial intelligence that focuses on the interaction of computers with human language. It allows machines to understand and interpret spoken or written language more naturally. NLP is used in a variety of applications in the A/V industry. Such as speech recognition, language translation, and transcription services.
For example, voice assistants such as Alexa, Siri, and Google Assistant use NLP to understand and respond to natural language requests. This technology makes it easier for users to interact with the technology.
2. What Else Is Possible with AI
In addition to IFP there are other products that can also incorporate AI features. But people usually ignore.
2.1 Digital Signage
The impact of AI on digital signage has been noticed by many people. However, its use cases have not yet been widely disseminated. There are several ways we can see digital signage being transformed by AI.
With the help of computer learning algorithms, digital signage can record people's faces. In addition, digital signage adds AI can use facial recognition to collect consumers' emotional reactions to ads. Feedback to advertisers for improvement the type of the ads.
2.2 Greater A/V Production
While AI is already making more possible in the A/V industry. The future promises more sophisticated uses in larger media productions. Let's say you have AI cameras installed in your conference room. Then you can use the automatic framing program when you conduct a large meeting. Convenient for you to record all the participants.
Summary
Artificial intelligence is changing the future of smart technology. AI will improve the functionality of products in various industries. IQ, as an expert in the audio and visual industry, is keeping up with the times. Our HA1100 Pro is an example of this. We are adding AI features to more of our products beyond this. There are also more unique systems that go beyond AI features. Please contact us if you are interested. We look forward to talking to you.