Introduction
Through nearly a decade of technology development, more and more employees use their own electronic devices during meetings. Therefore, BYOM (Bring Your Own Device) has become a popular trend in the meeting. BYOM not only allows to bring your own device but also empowers us to create our own personalized meetings. BYOM adopted by IQ Smart Meeting Solution gives you more flexibility in attending meetings. A natural extension of BYOD, BYOM allows you to use your own device to wirelessly connect to a meeting room screen and start a video conference by using UC platforms (Microsoft Teams, Zoom, Webex). Feel free to host video meetings from your own devices, easily and wirelessly share your screen when participants have new ideas. Share ideas prompty on time, create an atmosphere for brainstorming, and gradually form a new, more dynamic workplace experience.
What are the advantages of BYOM
BYOM is a more flexible way of meeting allows users to be more creative and share ideas naturally. Creating a seamless user experience through easy setup and connectivity is what IQ strives for. IQShare Wireless Presentation System features outstanding 4k UHD resolution for wireless screen sharing and conferencing. Users can display the screen through IQShare WP40 or IQShare Button. Mobile phones and tablets can be connected via mobile app or screen mirroring (AirPlay, Google Cast, Miracast). Besides, whether you have a projector, TV or touch screen in your meeting room, wireless presentation system can bring you a wireless screen sharing environment for team collaboration and brainstorming.
Our BYOM-interactive display allows participants not only to share their screens, but also to use laptops to easily access cameras and microphones from the large touch screen, freely switch between different commonly used VC platforms, and easily open higher audio-visual levels Touch Screen Video Conferencing Effects. The IQTouch interactive display has a 4k UHD wireless screen mirroring and makes team collaborate in different spaces through remote screen sharing, which increases the convenience of meeting interaction.
It's reportedthat you're more productive when you use your own device at work. Emergencies cannot be avoided when holding meetings in different scenarios. For example, when encountering unfamiliar or difficult-to-operate equipment, it saves the time spent on getting familiar with AV equipment and setting up mixed conferences. Just walk into a meeting room and wirelessly connect to existing facilities. No need to pause video conferencing, no cables, and no clutter.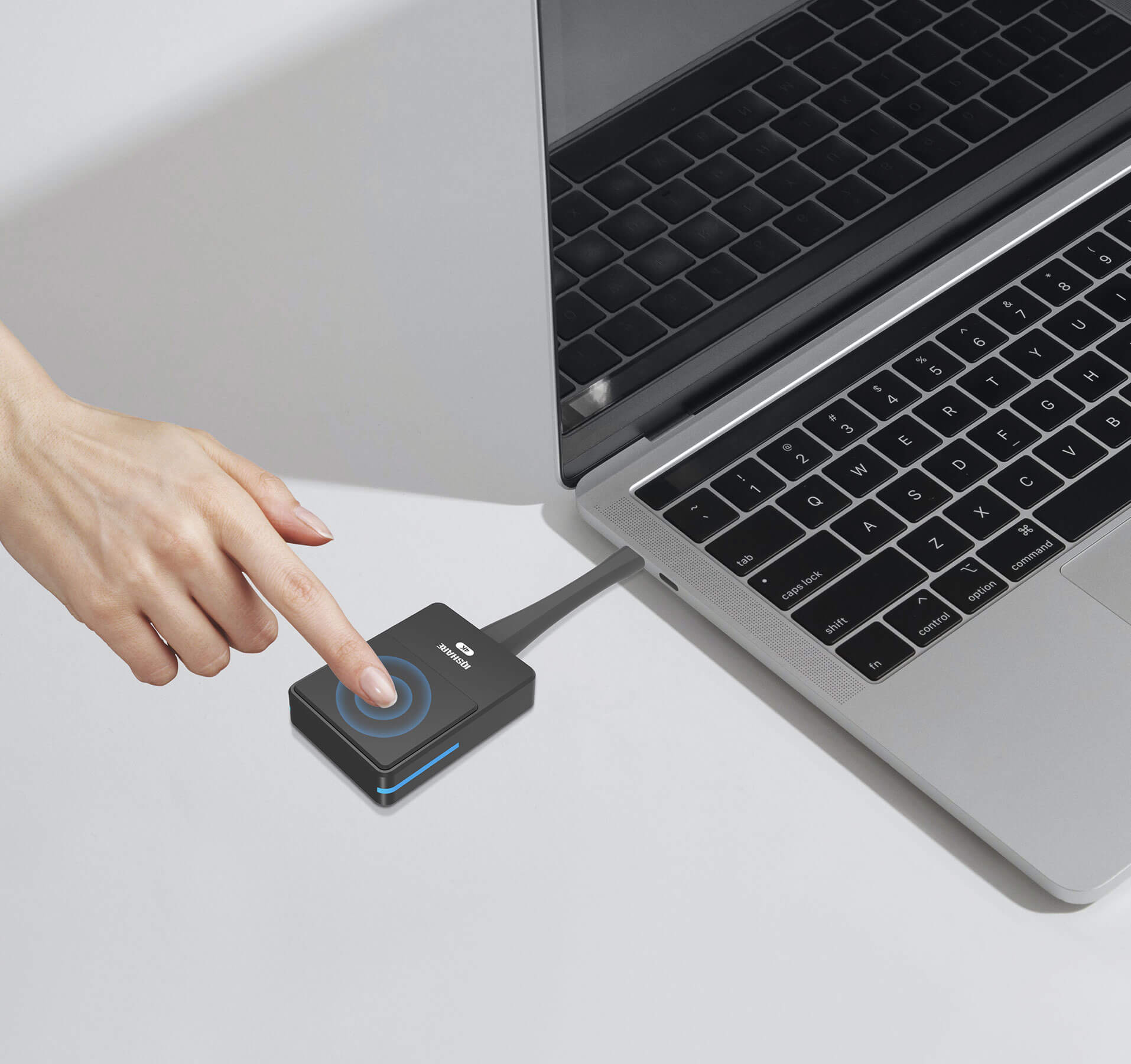 Why BYOM Matters
As the need to hybrid working increases, meetings must be held with simple and functional equipment. Running a meeting or starting a conference call is not easy. The equipment in the meeting room may be controlled through a very complicated center. IQShare wireless presentation products allow users to create ideal meetings according to individual needs, making meetings more effective. The IQTouch touch panels are the highlight products in the smart conference solution. The IQTouch interactive panel has a 4K artificial intelligence camera, voice tracking, automatic framing, and precise positioning. The focus of different speakers in the meeting can be automatically switched. The dual-band WiFi module design can surf the Internet at the same time and so that the projection screen does not interfere with each other. Guaranteed ultra-high network speed, and smooth online 4k video playback. And with the built-in Eshare Pro software, you can share your screen wirelessly, allowing participants' ideas to flow freely. No more cables to plug in. Show attendees instant inspiration without waiting.
How to use BYOM more efficiently
Utilizing the products included in IQ Smart Meeting Solution, it can truly meet BYOM needs and greatly improve work efficiency. IQShare's products are designed with BYOM in mind, allowing participants who are not on-site share personal screens or presentation content on conference room screens without the need for the same LAN. IQShare is compatible with almost all USB cameras, USB video sound bars, USB speakerphones with professional AEC (Acoustic Echo Cancellation) technology. To support BYOM, we provide suitable tools and comprehensive after-sales service, including group teaching explanations and one-on-one answering questions. Even if you have any questions after use, we will give the answer at any time. Our central control system allows all devices to share resources, and can also be controlled by one device, which not only helps to improve work efficiency but protects company information well. Therefore, IQShare products can meet the various needs of daily study and work. Great cost savings.
Summarize
With trends like remote working, flexible office designs, and a younger workforce entering business life, optimizing the workplace has become even more challenging. Relevant data shows that 67% of people use th
eir own devices at work, and BYOM has become one of the most important links in smart conference solutions. The IQ Smart Conference Solution has launched according to the changes of the times and following the trend. It plays a very important role in the highly digitalized development of society. There is no doubt that as devices become more portable and ubiquitous in our lives, the number of people who bring their own devices to meetings is also growing. Even if your meeting room is not fully equipped with audiovisual devices, a wireless screen share system connects your personal mobile screen to the big touch screen in the conference room. Not only is communication at the individual and team levels enhanced, but the scope of the talent pool is also increased. Staffing can be easily done through a collaborative and efficient workflow. Use IQ products to realize BYOM, bring your favorite devices to the meeting, and start meetings anytime, anywhere. The intelligent automated meeting process enables participants to have a more intuitive experience and share their ideas without pressure. IQShare Wireless Presentation System help to combine your work with digitalization, which can effectively improve work efficiency. BYOM is a more flexible and smart way of meeting, IQ Smart Conference Solutions make your meeting process seamless and easy. I believe our IQ Smart Conferencing Solution, delivers on the true promise of BYOM and extends a richer collaborative experience to in-room and remote meeting participants, anywhere in the enterprise, to anyone, anywhere.