With the growing demand for efficient collaboration in business, a wireless screen share system is an indispensable device for users to share their device's screen anywhere, anytime. .Wireless Presentation System has been gaining more and more attention in corporate sector. In IQ production line, we called that system"IQShare WP40." Screen casting function is available on IQShare system. The user uses the box as the receiver and the button as the transmitter. And we can offer three types of click-to-share buttons, which allows users to share multiple personal screens. You can click here to know more details.
1. What wireless presentation system can do
In today's fast-paced and collaborative work environment, effective communication and seamless collaboration are vital for businesses to thrive. Wireless presentation system has revolutionized the way of delivering presentations, which enables presenters to give an engaging presentation with ease.
1.1 Say goodbye to UC incompatibilities
With the abundance of Unified Communications (UC) platforms, the issue of compatibility between different systems can be a common challenge during presentations. However, the IQShare Wireless Presentation System solves this problem by providing universal compatibility with a wide range of UC platforms. We support Microsoft Teams, Zoom, Google Meetings, and more. It means that presenters can connect seamlessly with different devices and software with the IQShare WP40,. Don't worry about compatibility with the Unified Communications platform being used any more. Our products make presentations hassle-free and efficient. Making it easy for users to conduct a meeting. No complex installation techniques are required. Simply connect the box to interactive displays via USB cable. The dongle and IFP are paired via the USB port when you want to share the screen. Cick here to get the device connecting diagram.
1.2 Extensive coverage
The IQShare Wireless Presentation System offers a wide range of distance coverage for screen share. Moreover, it adapts to various applications such as conference rooms, classrooms, and meeting rooms. With no signal loss or degradation, the wireless screen casting system ensures a seamless experience for presenters and attendees. In addition, we have built Eshare Pro software into the IQTouch, with a feature that allows users to cast screens remotely right over the internet. No longer limited to the requirements of network connection.
1.3 Interoperability
To facilitate better collaboration, the wireless presentation system supports multiple split-screen collaboration and 4K UHD screen mirror. The presenters can share their ideas and screens at the same time. And it allows users to present in a way that ensures the presentation is clear to see. Presenters can also annotate shared content in real-time, facilitating dynamic discussions and brainstorming sessions. Powerful interactivity and inclusivity lead to more effective presentations and discussions. Wireless screen sharing function promotes collaboration and creativity in the workplace.
1.4 Flexible presentations
If there are multiple large displays in a meeting room, you can achieve maximum visibility by group display. You can connect each display to an IQShare box separately and group them together. In this way, IFPDs will be able to receive the same content wirelessly at the same time. To meet the needs of different users, we offer three types of share buttons: USB-C, USB-A, and HDMI. These can be purchased according to the needs of the user's device.
2 . Advantages of the wireless presentation system
Wireless presentation system is different from traditional wired screen transfer. First of all, it extremely simplifies space utilization and operation process. In addition, there are many advantages to wireless screen transfer.
2.1 More people coordination
Collaboration is an important indicator of the efficiency of a company. Our company has dedicated into the education and business industry for many years. We can not only provide our customers with quality hardware products but also provide intelligent solutions for users. We can provide IFPD, IQShare WP40, Video&Audio Conference Camera, Interactive Pen Display, etc. We can also match our products to the customer's needs, aiming to provide more fluid collaboration.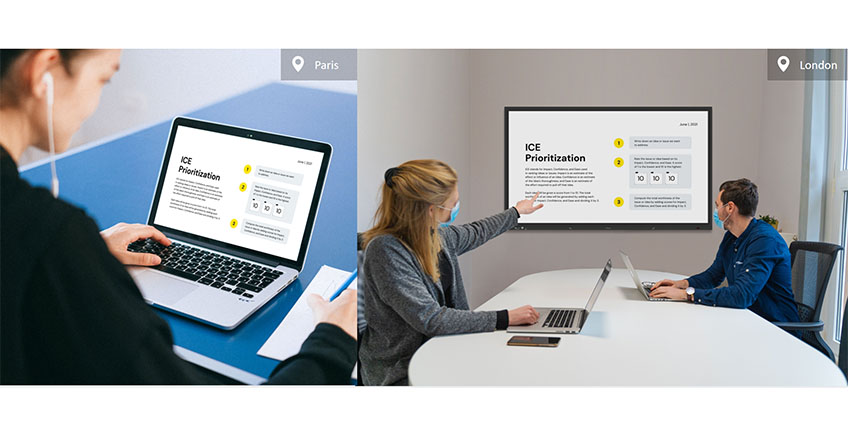 2.2 Secure and encrypted transmission
The wireless share screen system ensures secure and encrypted transmission of screen content, protecting sensitive information and ensuring the privacy of meetings and presentations.
2.3 Cost-effective solution
IQShare presentation system provides a cost-effective solution for wireless screen sharing, eliminating the need for expensive cables or adapters and reducing set-up and installation costs.
Incorporating IQShare Wireless Presentation System in the modern workplace can greatly enhance collaboration, productivity, and communication. Its universal compatibility, seamless wireless convenience, large coverage, stable transmission, collaboration capabilities, high-definition video and audio transmission, and user-friendly interface make it a prime choice for businesses looking for an efficient and engaging presentation. Our company has been in the education and corporate sector for over 16 years. We aim to provide our customers with a more diverse range of products. To provide our customers with more flexible and intelligent solutions according to different needs. Improving the user's product experience is what we focus on. Don't miss out on the benefits of the IQShare Wireless Presentation System - explore it further or contact us for more information. Take your presentation to the next level. Please contact us if interested and we are more than happy to answer any questions you may have.