The shift in the way the world works is not just technological. There is also a deeper cultural aspect of change underway. Digital transformation has the world thinking about the questions. That is how to change the workplace. And how people can best adapt to this digital transformation. All types of smart solutions from IQ have a common goal: to meet the needs of our customers in the workplace. You can click here for a quicker look at our various solutions for education and business.
I will share with you some of advantages of the hybrid work model and how to adapt to the digital space.
1. What is hybrid work?
Hybrid work is a combination of traditional office work and modern office work. This is a way to combine face-to-face work with remote work. This mix of work locations allows employees to enjoy greater flexibility in their lives. For example, one day an employee may choose to work from home. Because he knows that he is most productive in a quiet atmosphere. While the next day he may choose to work face-to-face to attend an important meeting.
The unique feature 1: It can greatly save employees' time to increase productivity.
The unique feature 2: Employees won't be limited by space or time. They can start a meeting at any time
2. Advantages of hybrid work models
Hybrid work is a model that emerged during the global epidemic. In addition to helping people keep working and healthy during special periods. What's more, hybrid work has many advantages. So that's why it's becoming more and more common.
2.1 Work-life balance.
For many people, after a special period, people's thinking has also changed. The epidemic has put a lot of priority on the perspective of what people want to get out of work and life. More than half of employees now say they are more likely to focus on their health and well-being over work. So the need for a hybrid work model has intensified.
2.2 Commuting time is reduced.
Activities such as picking up children and going to the hospital can be scheduled according to individual needs. The time that can be chosen is more flexible.
2.3 Possibility to change your place in the house
In a traditional environment, moving home once is a complete change. The absence of mixed work patterns can largely limit people's activities in the city. Because the city is the only place to find the right job. With a mixed work model, people have more free time. People have the opportunity to choose where they live. People can work and be near their families at the same time.
2.4 Expanding Demand for Talent
Better talent can be recruited using hybrid and remote work models. This is because flexible work styles are not limited to geographic locations. Recruiters who use a hybrid strategy can also lay down a wider network for the positions they fill. Enabling them to find the best candidates for the organization.
3. How IQ enables intelligent meetings
For meeting rooms of different sizes, IQ offers a complete meeting system. Intelligent meeting room solutions are available in a variety of options - including Next Gen, The Auditorium, The Studio, The Ideation Hub, The Vibe, and other meeting rooms. All are easy to install, easy to manage, and easy to use. We help you get the best from your meetings.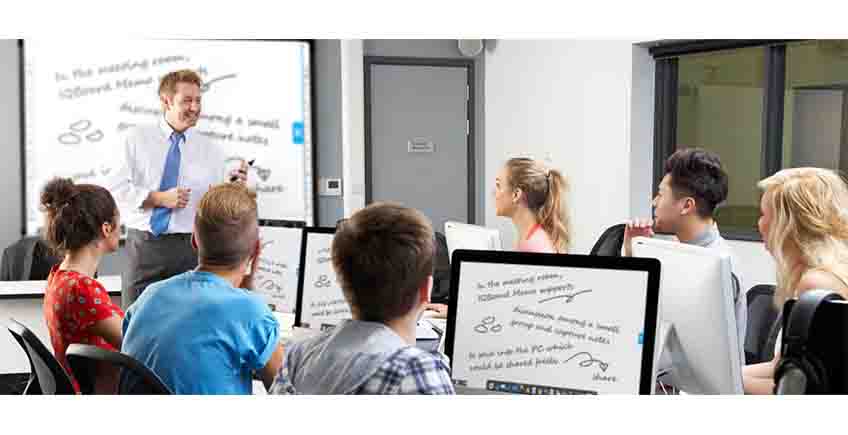 3.1 IQ's Smart Meeting Solution: Products
The three most important products in Smart Meeting Room Solution: are IFP, IQShare, and BYOD. Our products meet the need for collaboration tools in the rapidly evolving hybrid workplace. We are constantly updating our product offerings. We are committed to providing our customers with more and more choices.
·IQTouch interactive flat panel
The IQTouch HA1100 Pro is unique in its ability to meet the needs of video meetings. It has a dual vision camera with a 48MP conference camera plus a 13MP document camera. Optical bonding technology allows you to write more smoothly. It's like you're writing on paper. So it is a good collaboration tool.
·IQShare
We can offer a wireless presentation system WP40. It allows you to easily share your screen with life. You can choose Eshare software or the IQ button to connect your device to the IFP. With the IQ Wireless Presentation System. Employees can achieve easy screen sharing. Laptops can be connected via a software client or plug-in button. While smartphones and tablets can connect via mobile apps or screen mirroring (AirPlay, Google Cast, or Miracast).
·BYOD
BYOD (Bring Your Own Device) allows you to bring your own device to share your screen. Up to 8 devices can be connected and 4 screens can be displayed at the same time. It can improve your collaboration experience.
·What is BYOD
BYOD (Bring Your Own Device) is a policy that allows employees in an organization to use their personally owned devices for work-related activities.
These activities include things like accessing email and connecting to company displays. Smartphones are the most common mobile devices that employees may bring to work. But employees also bring their tablets, laptops, and USB drives to work. With this policy, employees will be able to share the screens of their own devices.
Summary
At IQ, we customize our solutions to meet different customer needs. Creating quality and reliable hardware and software products. If you happen to have plans to change your work pattern please contact us. We will take care of all your worries. One-stop solution to upgrade your smart space.