· 1. Enhancing Remote Learning Experience
· 2. Creating an Engaging Virtual Classroom
· 3. Facilitating Real-Time Collaboration
· 4. Promoting Active Learning
· 5. Ensuring Effective Instructional Delivery
With traditional classrooms transitioning into virtual spaces, it has become crucial to find ways to engage students and promote effective instruction delivery. One powerful tool that has emerged as an inportant part in distance learning is the interactive flat panel. These advanced devices have the capability to bridge the gap between students and teachers, creating a more interactive and engaging virtual classroom experience. In this article, we will explore how interactive flat panels enhance the remote learning experience, create engaging virtual classrooms, facilitate real-time collaboration, promote active learning, and ensure effective instructional delivery.
1. Enhancing Remote Learning Experience
Interactive flat panels play a significant role in enhancing the remote learning experience for students. These devices offer features such as high-definition displays, touch functionality, and user-friendly interfaces that make virtual learning more engaging and interactive. Students can now see the teacher's presentation materials, videos, and visual aids clearly, ensuring that they do not miss out on any important information. This clarity of content fosters better understanding and retention of knowledge, ultimately enhancing the overall learning experience.
2. Creating an Engaging Virtual Classroom
One of the challenges of distance learning is creating an environment that mimics the interactive nature of a physical classroom. Interactive flat panels address this challenge by providing tools and features that promote engagement. For instance, teachers can use the panel's annotation tools to highlight important points on the slides, emphasizing key concepts during their presentations. Additionally, interactive flat panels often support various multimedia capabilities, including video playback and audio integration, enabling teachers to incorporate interactive elements into their lessons. This combination of interactive features ensures that students remain engaged and involved throughout the virtual classroom experience.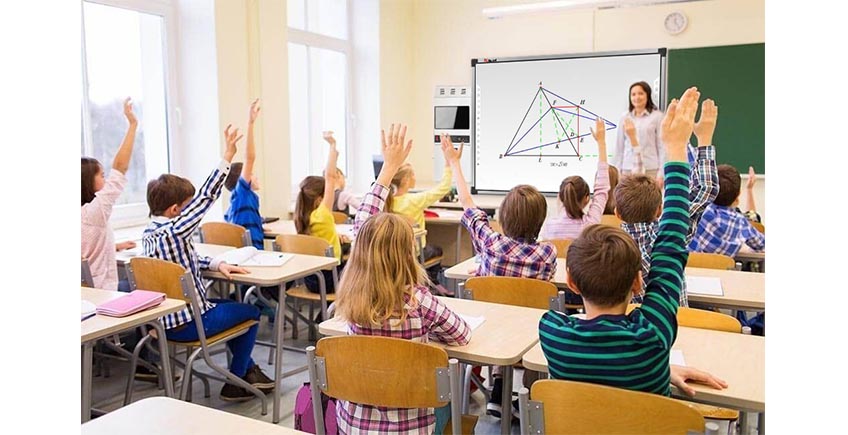 3. Facilitating Real-Time Collaboration
Collaboration among students is an essential aspect of learning. Interactive flat panels facilitate real-time collaboration, allowing students to work together even in remote settings. With features like screen sharing, students can present their work or ideas to the entire class, fostering a sense of community and participation. Teachers can also use collaborative tools to gauge students' understanding by conducting live polls, quizzes, and assessments. This feature not only encourages active participation but also enables immediate feedback and assessment of student learning.
4. Promoting Active Learning
Interactive flat panels are designed to promote active learning by encouraging students to be more involved in the learning process. These devices support interactive whiteboard functionality, allowing students to participate in activities like solving problems, brainstorming ideas, and collaborating on projects. The touch-sensitive screens enable students to interact directly with the content displayed, making learning a hands-on experience. By promoting active learning, interactive flat panels foster critical thinking skills, creativity, and independent learning.
5. Ensuring Effective Instructional Delivery
Effective instructional delivery is crucial for successful distance learning. Interactive flat panels provide teachers with a powerful tool to deliver their lessons effectively. The panels allow for seamless integration of various teaching resources, such as PowerPoint presentations, online videos, and interactive educational software. Teachers can access these resources directly from the panel, eliminating the need for multiple devices and streamlining the instructional process. Furthermore, interactive flat panels offer connectivity options like HDMI and USB ports, making it easy to connect devices and share content with students. This streamlined approach to instructional delivery ensures that teachers can focus on delivering high-quality lessons without technical distractions.
In conclusion, interactive flat panels have revolutionized distance learning by bridging the gap between students and teachers. These devices enhance the remote learning experience, create engaging virtual classrooms, facilitate real-time collaboration, promote active learning, and ensure effective instructional delivery. As the education system continues to evolve, interactive flat panels will remain a vital tool in fostering interactive and immersive learning environments. To explore further and discover the best interactive flat panels for your educational institution, please visit our product page or contact us via our contact form.