Introduction
Interactive Flat Panel (IFP) has been rapidly gaining popularity in education and business settings, providing a powerful tool for improving communication, collaboration, and learning. Compared with traditional whiteboards, IFP has more vivid, intuitive, and multimedia functions, which can bring more efficient and rich experiences for teaching and work. IQTouch Interactive Flat Panel provides an innovative way for students and teachers to interact and learn, while also providing an interactive marketing platform for businesses. This article will help you understand the potential of Interactive Flat Panel Displays and how it is leading the way in this rapidly growing industry.
Applications of Interactive Flat Panel
Interactive Flat Panel has taken the world by storm, and IQTouch interactive display is leading the charge with its innovative features and versatile applications. From the classroom to the meeting room, Interactive Flat Panel is a must-have technology that can enhance collaboration, engagement, and learning outcomes in a variety of settings.
In Education
In the classroom, Interactive Flat Panel is revolutionizing the way teachers deliver lessons and students engage with learning materials. With its high-resolution display and intuitive touchscreen interface, Interactive Display makes it easy for educators to deliver interactive and engaging lessons that inspire deep learning. The built-in annotation tools and collaboration features make it easy for students to work together on projects and share ideas in real-time, creating a more dynamic and immersive learning experience.
In Business
Interactive Flat Panel's benefits extend far beyond the classroom. In the business world, Interactive Flat Panel is helping organizations boost productivity, collaboration, and engagement. Whether you're holding a team meeting, presenting to clients, or brainstorming with colleagues, IFP provides a powerful platform for effective communication and collaboration. The advanced features, such as wireless connectivity and screen sharing, make it easy to work together and share ideas, no matter where your team is located.
Moreover, Interactive Display provides an innovative marketing platform for businesses. With its large, high-resolution display and touch-screen capabilities, IFP can be used to create interactive presentations, product demonstrations, and promotional materials that capture customers' attention and drive engagement. This technology provides a unique opportunity for businesses to showcase their products and services dynamically and interactively, creating a more memorable and impactful marketing experience.
Advantages of IQTouch Interactive Flat Panel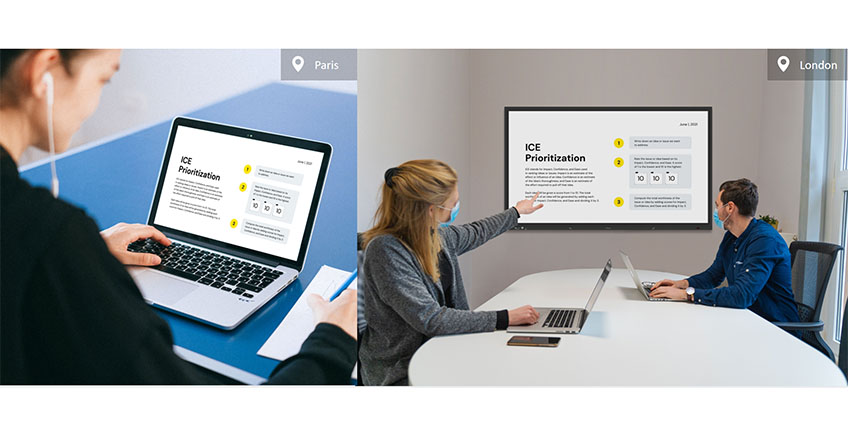 IQTouch Interactive Flat Panel is designed to provide a comprehensive solution for modern workplaces and classrooms, offering a range of benefits that enhance collaboration, communication, and learning. Here are some of the key advantages of Interactive Flat Panels:
1. All-in-one display:
IQTouch touchscreen panel display is an all-in-one display that combines the functionality of a projector, whiteboard, PC, and other software into one convenient device. This makes it easy to set up and present without the need for separate equipment, saving time, space, and money. With the IFP, you can start collaborating or presenting immediately, increasing productivity and efficiency.
2. Wireless mirroring:
The Interactive Display features wireless mirroring options, which allow you to connect your device to the display without the need for cables or adapters. This reduces cable clutter and provides a clean, organized environment for meetings and presentations. With wireless mirroring, you can easily share your screen and collaborate in real time, making teamwork more seamless and efficient.
3. Built-in camera and microphone:
IQTouch panel is equipped with built-in cameras and microphones, making it easy to set up video conferences and hybrid work environments. With the built-in camera and microphone, you can connect with colleagues or clients remotely, without the need for separate equipment. This promotes more efficient and effective collaboration, regardless of location.
4. Screen Share:
Screen sharing is particularly useful for online meetings, webinars, and remote support sessions, as it allows participants to follow along with the presenter's actions and see what is happening on their screen in real-time. IQTouch collaborative display offer the ability to screen share, which allows attendees to instantly share their screen and remotely control from a single device. This makes teamwork more seamless and allows for more innovative ideas to be shared in real-time. With the ability to screen share, you can collaborate more effectively and create more impactful presentations and proposals.
5. 4K Ultra HD Resolution:
With a range of sizes available, from 65 inches to 86 inches, such as HA1100 Pro, IQTouch boasts 4K Ultra HD resolution for crystal-clear images and video. With its 4K Ultra HD resolution, this device delivers crisp, clear images and video, making it ideal for displaying complex diagrams, charts, or other visual aids. This helps to ensure that your audience understands and retains the information you are presenting.
Moreover, its touch-screen interface allows users to interact with content directly on the screen using their fingers or a stylus. But that's not all - this device also includes advanced features like handwriting and shape recognition, as well as gesture recognition for a truly immersive experience.
6. Intuitive Software
What sets IQTouch brand apart from IQBoard is its intuitive software, designed specifically for collaborative work. With whiteboard software, annotation tools, and screen sharing, users can easily work together on projects, share ideas, and communicate effectively in real time. This is a key advantage in today's fast-paced, globalized world, where digital collaboration is becoming increasingly important. Say goodbye to the hassle of traditional presentations and hello to a more engaging, interactive experience with IQTouch smart board .
Summary
IQTouch digital whiteboard is a game-changer for anyone who wants to deliver presentations that are both informative and immersive. This advanced device is essential for anyone who wants to deliver engaging, interactive presentations or collaborate effectively with others. Its advanced features, interactive functionality, and impact on education and business in today's digital landscape make it a valuable investment for any business, institution, or individual. Whether you are a teacher looking to create more engaging and personalized lessons, or a business professional looking to enhance collaboration and productivity, IQTouch is the ideal solution.