The increasing use of interactive flat panels in classrooms has transformed teaching and learning. However, as schools adopt more interactive displays, managing and maintaining them efficiently has become challenging. Mobile device management (MDM) software offers a solution. MDM enables school IT administrators to remotely access and manage interactive flat panels, maximizing efficiency while reducing costs. By providing capabilities like remote power control and device monitoring, MDM simplifies interactive display management. This article aims to explore the capabilities of MDM and how it can empower administrators to remotely manage and control these devices. Before delving into its functionalities, let's take a closer look at what MDM actually entails.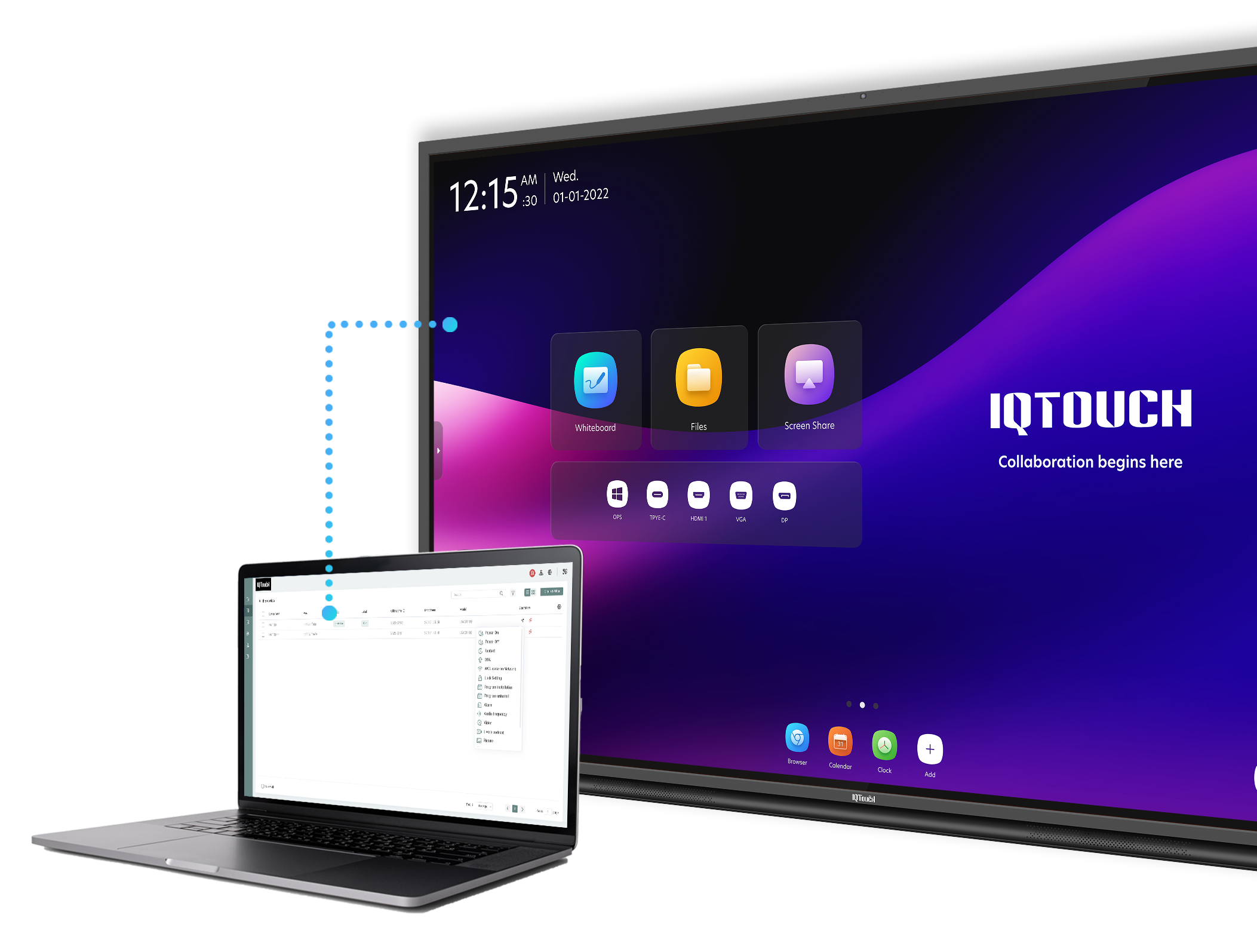 1. What Is MDM?
MDM, short for Mobile Device Management, was originally developed to optimize an organization's device control and operations by integrating them into a comprehensive management system. The benefits of implementing MDM for device control and management are numerous.
One significant advantage of MDM is its ability to provide end-to-end remote management. This includes both the management end and the client end. The management end is a web-based portal accessed using a unique account and password. On the other hand, the client end refers to the MDM software installed on devices, such as theIQTouch TE1100 series interactive flat panel display. Regardless of device type or operating system, an effective MDM platform facilitates seamless management and control.
2.What MDM can do for school IT administrators
An effective MDM platform empowers IT technicians to analyze, control, and update devices remotely. It basically offers the following 6 benifits for the IT administrator for efficient control.
-Remote management: The system allows remote management of devices.
-Collaborative user management: Multiple users can be created for an account, enabling collaborative device management.
-Dashboard visualization: The dashboard provides visual statistics and device location distribution.
-Streamlined operations: Batch operations streamline workflow processes for convenience and efficiency.
-Remote device control: Various remote control capabilities include viewing device information, sending alerts and messages, and managing power and screen locking.
-Customization and monitoring: The system supports remote customization of device settings, history tracking, real-time screen viewing, file transfer, application installation, and control.
3. How to use MDM for the remote device control and management.
While MDM is commonly used for remote control and management of various devices running different operating systems, let's specifically focus on its application for interactive flat panel displays.
3.1 Remote power control
Remote power control through MDM offers convenient and energy-saving benefits for device management. Leaving AV equipment, such as interactive displays, turned on for extended periods not only shortens their lifespan but also increases power costs for schools, thereby driving up operational expenses.
With MDM, school IT administrators can easily access the MDM web portal to control the displays, including remotely powering them off. Additionally, when displays need to be turned on before a class, administrators can conveniently wake them up through the network. In essence, IT administrators have the capability to remotely shutdown, restart, turn on/off displays, and set automation schedule for the device's powering on/off, enabling efficient and cost-saving device management.
3.2 Device status and analysis
The MDM web portal provides a comprehensive dashboard that enables IT administrators to conveniently monitor the status of devices, including online and offline indicators, usage frequency, and app usage on the interactive displays. This feature assists schools in analyzing the utilization of interactive displays, monitoring power consumption, and assessing the apps utilized by teachers during classroom teachings. Additionally, IT administrators can easily access and review the settings and parameters of the interactive displays, ensuring that they are properly configured and aligned with the desired specifications. The dashboard functionality offers valuable insights and facilitates efficient management of the interactive display ecosystem.
3.3 Convenient device control
In addition to turning on or off the interactive display, administrators can remotely change the wallpaper of the themes for the display as needed to better match the teaching needs. Moreover, administrators can change the booting logo if needed. All these done, the administrator can verify if the operation is succeeded by performing a remote screen control to double check if the command is successfully executed on the display. With the remote screen control feature, the IT administrator takes control of all the desktop operations on the display.
3.4 Send text or audio visual notifications
IT administrators can effortlessly send text messages or audio-visual notifications to specific interactive displays. For instance, when administrators need to remind teachers to power off the displays, they can send text messages directly to the targeted interactive displays as reminders. Alternatively, if the school principal wishes to deliver a recorded public speech, IT administrators can upload the speech onto the web portal and then transmit the audio-visual content to the designated displays in different classrooms. This convenient feature enables seamless communication and effective dissemination of important messages across the campus.
3.5 Batch device configuration
MDM from iqboard.net provides a streamlined device configuration solution for interactive display panels. Instead of manually changing settings one by one, which can be laborious and time-consuming, IT administrators can utilize MDM to create setting schemes or templates with predefined parameters. These schemes can then be synchronized to the target interactive displays, significantly enhancing operational efficiency for administrators. By eliminating the need for manual configuration, MDM empowers administrators to maximize their productivity and save valuable time.
3.6 Convenient app control and management.
MDM empowers administrators with remote app management capabilities. Instead of physically going to the classroom, IT administrators can remotely transfer and install teaching-enhancing or collaboration-boosting software to the interactive displays. Additionally, IT administrators have the ability to enable or disable apps as required. This streamlined approach enables efficient app management and control.
4. Summary
MDM offers a comprehensive range of features beyond what has been mentioned. It provides end-to-end remote management capabilities, allowing you to perform various remote management and operations for a large number of interactive displays across your campus. With the IQTouch 1100 series interactive displays, all equipped with preinstalled MDM software, you can efficiently maximize the management and control of the interactive flat panel displays throughout your campus while also minimizing power consumption.
Overall, MDM software empowers schools with a streamlined approach to manage interactive flat panels at scale. For interactive display adoption to be sustainable and impactful, efficient management tools like MDM are essential. By simplifying operations and reducing costs, MDM allows schools to focus resources on transforming teaching and learning with interactive flat panel technology.