Introduction
Conference rooms are usually used for holding academic reports, meetings, training, organizing activities, and receiving guests. The general meeting room functional area includes the audience area and the speaking area. For example, there is no clear distinction between round-table meeting rooms and meet-and-greet meeting rooms. The layout type of the meeting room can also be standardized or personalized. In addition to the common classroom-style layout, there will also be T-shaped, E-shaped, and other types. Regardless of the size, meeting rooms can be divided into small and medium-sized meeting rooms and large meeting rooms. Conference rooms are not only important for collaborative work within corporate teams. It is also very important for businesses and trade to contact customers. An intelligent conference room device that can support you to contact customers in other places anytime and anywhere. Have discussions about trade. However, due to the impact of the world environment, the proportion of teleconferencing is increasing. More businesses are opting for hybrid work models. The geographical restrictions are getting smaller and smaller. Utilizing IQ Smart Meeting Room Solutions means more space for meetings. The highly integrated design means that it occupies less space in the conference room.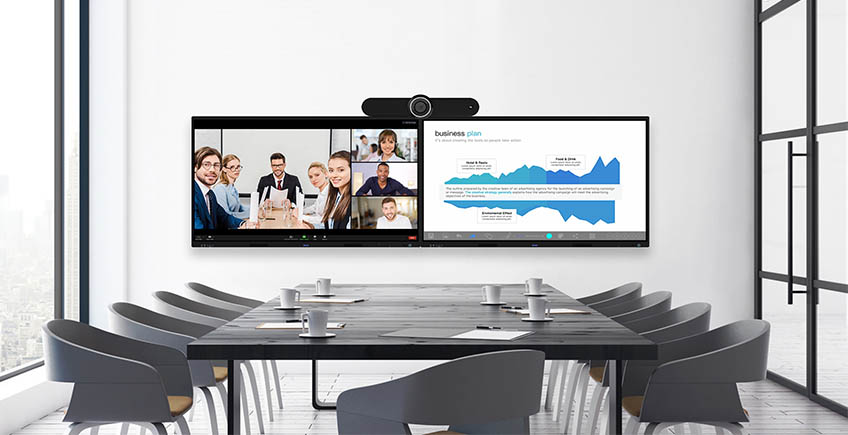 What are the advantages of smart conference solutions?
1. First, utilizing smart conferencing solutions can facilitate collaboration in conference rooms. Time and geographical constraints can seriously affect the process of work. Bad electronic equipment can also have a bad impact on the meeting process. The fundamental question here is how to enable employees to communicate efficiently, solve problems and get work done. For companies that value collaboration, the preference is to bring employees together in the same space for discussions. However, due to various factors, it has become more difficult to gather employees together anytime and anywhere. Therefore, in order to solve this problem, it is necessary to break this limitation. IQ Smart Meeting Room Solutions makes it easy for you to conduct meetings. Simplify video conferencing and messaging across any device. IQMeet Conference PTZ cameras, IQSpeakerphone wirelesss micmicrophonesnd IQSoundbar professional speakers for large conference rooms bring you ultra HD images and 360° sound pickup. Make you feel like your partner is right in front of you during the meeting. Bring an unprecedented convenient experience. The IQTouch dual-screen solution with interactive displays allows working partners to express their ideas more smoothly during remote meetings. One screen can be used for video conferencing. One screen for collaboration. During the meeting, you can write meeting minutes on the whiteboard. Even if partners are not in the same space, they can still join the collaboration and receive messages in real-time. In the discussion session, you can brainstorm and share ideas at the same time, which makes the video conference really close at hand, without distance.
2. Second, a hybrid workplace is built. Mixed work is the type of work that results from a change in circumstances. It is the new reality of remote working, which also provides greater flexibility for employees. Although you may not know much about conferencing solutions. You can log on to the IQ official website https://www.iqboard.net/ for more information. In today's work environment, remote collaboration has become a mainream. How to make your company's conference room smarter. How to retrofit an existing conference room. Need to renovate an entire conference room? IQ Smart Meeting Room Solutions can provide you with a complete renovation plan without requiring you to add more space to upgrade the conference room. Only one set of solutions is needed to make your conference room smarter and your work more efficient. Best of all, there is no hassle and no construction involved. Our highly integrated design is modular installation. Easy to operate and get started quickly.
3. Third technology in the smart workplace can be leveraged to change the status quo. Due to concerns about social distance, the effectiveness of the office is still seriously affected. So for small companies, how to share space has become a big problem. Hybrid working with smart technology offers the best of both worlds. Very safe and efficient. The IQ Smart Meeting Room Solutions enhances the capabilities of the digital workplace. Good use of electronics. Collaboration with colleagues just got easier. Make real-time exchange of ideas and information a reality. Empower employees with the tools they need to be productive anytime, anywhere. Our extensive experience, flexible deployment, and cutting-edge technology. These can meet all your needs. And it can really solve problems and make employees work smarter.
Summarize
Driven by the general environment, the need for remote collaboration is increasing. With the advancement of technology, it is involved in all aspects of life. In particular, education and business are more affected. Everyone has seen the big changes in the educational environment. The upgrade of the conference room is also constantly followed up. More smart devices are being developed. To improve employee productivity. To adapt to different conference room environments. Whether it is a large enterprise or a small enterprise, the requirements for meetings are getting higher and higher. Different companies have different needs for conference rooms. How to make full use of the space of the conference room, and how to make the space of the conference room larger. These problems urgently need to be solved. And IQ is here to solve these problems for you. To provide you with more intelligent solutions. IQ Smart Meeting Room Solutions is a unique approach. Allows you to understand how employees can improve engagement. It allows you to easily understand the current equipment and office utilization. Combined with our design and technology, we will better guide you to transform your conference room according to the way employees work. Improve employee experience for you and help your employees increase productivity. We have a professional team to work with you. You can customize your budget for the product. Vision for the meeting room layout. Meet your different needs. We can also provide you with more services. If you are interested, please contact us.