Introduction
IQSoundbar is a speaker with stereo effects, usually placed above or below the screen, based on acoustic considerations, this type of speaker is mostly long strip design. As remote work and video conferencing have become increasingly prevalent, the importance of high-quality audio has become more apparent. Soundbars offer a superior audio experience compared to the built-in speakers on laptops and desktop monitors, producing clearer, more natural sound and reducing background noise.
Do I really need a sound bar?
If ten years ago, we bought entry-level monitors, such as TVs and LCDs. We only need to consider the pixels of the screen and worry about whether the screen display is clear. Nowadays, we can buy a very good 4k smart TV at a reasonable price. Many schools have also installed smart LCD blackboards. And there is also a trend that people are willing to set smart devices thinner and thinner to meet the needs of carrying. For example, by integrating a built-in camera and 6 microphone arrays, IQTouch TB900Pro is easy to set up a video conferencing environment immediately. Experience a high-quality video conference supported by a high-definition image with 12 million pixels and the ability of long-distance sound pickup. But when the interactive display is made smarter, the volume and the space inside are smaller. The small space of the equipment can limit the quality of the speakers because there is not enough space to place the speakers. So the picture of the smart display is very high-definition, but the sound quality is not good. Because the built-in speakers are limited by space.
Do you know the importance of theater system sounds?
If you don't pay much attention to sound quality, it's normal. Most of us overlook the importance of sound quality. Whether it is in a theater, in a meeting room, or even in a classroom, sound quality plays an important role. We ignored the importance of sound quality in theater systems and the results are horrible sounding audio systems. If your device's sound system fails to provide clear sound, improve your experience. Such as, in a conference scene, you cannot hear the speaker's voice. In the classroom, you cannot hear the teacher's voice. Regardless of the brand of your smart device or the size of your monitor, the sound quality from its speakers just isn't good enough. As long as you amplify the sound, the sound will lose its essence and be unclear. You may even hear a screeching or buzzing sound. The sound quality experience is not good enough. So how to change this situation? It is not too difficult to improve the sound quality experience. The good news is that most of us can do it.
Can a soundbar fix the quality of my device?
Soundbars sound better than speakers. Take a TV as an example. The stereo speakers of a TV are not enough to make a theater system. Stereo speakers cannot take care of further distances. Even amplifying the sound would deprive the sound of its essence. And the speakers in the market only have a power of 20w. The minimum output power of the sound bar is 60w. So the soundbar can improve the sound quality of the theater system very well. The power of IQSound SA200 is 80w. It really is a must-have accessory for today's meeting room and classroom. It is the best soundbar for you building the theater system or just looking for a more reliable and great-sounding audio source to accompany the interactive flat panel. Nomex composite vibrating diaphragm mid-bass unit Due to its lightweight, the transient response is rapid without loss of detail. IQSound SA200 is also equipped with a remote control to provide you with convenient help during use. Diverse sound effect modes Choose devices with a hassle-free connection, different LED colors represent different modes. IQSound SA200 can produce fuller sounds and clearer dialogue than speakers. Soundbar will have deeper bass and better sound clarity to the point of achieving "surround sound"
Brilliant ways a soundbar can boost the quality of your life
Soundbars can be used in many unexpected places, enriching your daily life. You can connect the soundbar to your TV via Bluetooth to play audio, or you can connect it to your phone or tablet, which can bring you more activities.
1. You can watch 3D movies while watching movies at home
2. More clarity through the soundbar when holding meetings at home
3. The sound quality is more beautiful when playing music, which makes you more invested.
How do I choose a soundbar that's based on my needs?
A soundbar is typically classified according to channels like 2.0, 2.1, 3.1, and 4.1.
2.0 refers to 2 speakers and no subwoofer. A 7.1 system has 7 speakers and 1 sub-woofer.
There are 2 types of surround sound, Dolby Audio, and Dolby Atmos. IQSoundbar comes with Bluetooth for wireless connection to your mobile devices.
The higher the power output (e.g. 300W) of the soundbar, the better the sound quality in general. Choose a sound bar based on your needs. It can improve your experience when using electronic devices. Let you be more involved in watching movies, playing games, conducting meetings, and studying.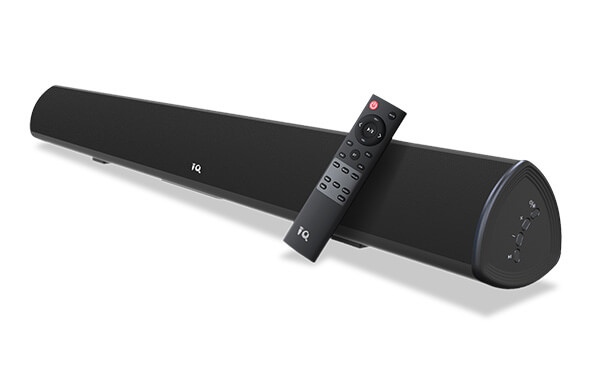 Summary
Smart technology is advancing, and the functions of the display are also constantly improving. But the built-in speakers fall short of what a soundbar will give you. A sound bar can amplify sound while maintaining clarity. It can meet daily meetings, whether it is a large or medium-sized conference room, the speaker's voice can be heard. In the campus environment, the daily class noise is loud, and the students in the back row may not be able to accurately receive the teacher's signal. Losing essence while amplifying sound cannot be avoided in home theater. IQSound SA200 can solve the above problems. Bring you the most authentic and clear sound. And one of the advantages of the sound bar is that it is easy to carry and flexible to use. The location can be moved according to user needs. IQ is committed to bringing you a better experience, please contact us, and we can give you more product details and usage methods.