Introduction
What is an interactive flat panel? This is an all-in-one touch screen that integrates conference management functions and integration. Users can operate directly on the screen and also connect their own devices to the smart whiteboard. Users can freely share their screens. In general, the interactive flat panel covers the functions of ordinary whiteboards, projectors and computers. The interactive flat panels is referred to as IFP. Compared with traditional whiteboards, IFP can bring more convenience to people. Because interactive flat panels cover all the functions of ordinary whiteboards. This is also one of the reasons why ordinary whiteboards fade out of people's sight. In our company we call the interactive flat panels "IQBoard" and derived a series of products called "IQTouch". You can click here to learn more about the details of the model. What advantages does IFP have over whiteboards? I've listed seven advantages for you.
Improve Cooperation
The networking capabilities of the IFP allow multiple users to work simultaneously. Collaborate in real time on the same screen. Facilitating collaboration between teams can also increase interactivity between presenters and attendees. Such as IQTouch HA1100 Pro's advanced touch technology endows the screen with more possibilities. It has infrared ultra-fine touch technology with 40 points of touch. Users can interact with both hands and a pen. Discussions can be made more dynamic. For brainstorming sessions, participants can freely share their ideas. The built-in 4K AI camera of IQTouch HA1100 Pro can perform voice tracking and auto framing functions.
Clearer Image
Our IFP supports high-quality video conference with 48mp resolution during remote collaboration. And it can precisely locate and automatically switch the focus of different speakers. It can not only guarantee ultra-clear picture quality, but also adapt to different lighting conditions. Every participant in the meeting room can be clearly seen during the video meeting.
Enhanced Visual Effects
The IFP features higher resolution and brighter displays than traditional projectors and whiteboards. It can provide clearer and more vivid images. Our product with optical bonding technology delivers a 4k ultra-high-definition visual experience to users. Bring you clearer picture quality. We have 178°wide viewing angle makes it easier for everyone in the meeting room to see the content on the screen. The high-level visual experience allows you to communicate as if you are face-to-face during a video conference. In order to reduce eye fatigue, our touch screen adopts tech . It can reduce 80% of harmful blue light from panel LED backlight. Comfort your eyes while still maintaining color accuracy on the display. The IFP still provides you with an excellent image.
Versatile and Customizable
The interactive flat panel can be used in a variety of ways. It can be used for everything from presentations and video conferencing to digital signage. We also allow customers to customize their workspace and product configurations. IQ not only has products such as IFP but also provides intelligent solutions to solve customer management equipment. What is more, we can customize the functions of products for the different demand of customers. Now, we already have a variety of mature smart solutions. If you want to learn more you can click here for details.
Easy to Use
Although the interactive flat panel covers the functions of ordinary whiteboards. But it still maintains the convenience of the use. Even people who have never known an interactive table. There is no difficulty in operating it. IQ OS presents a newly designed interface on an interactive flat panel display. It has a more stable system and rich collaboration tools. And IQTouch supports gesture recognition function, which makes users use it more smoothly and easily.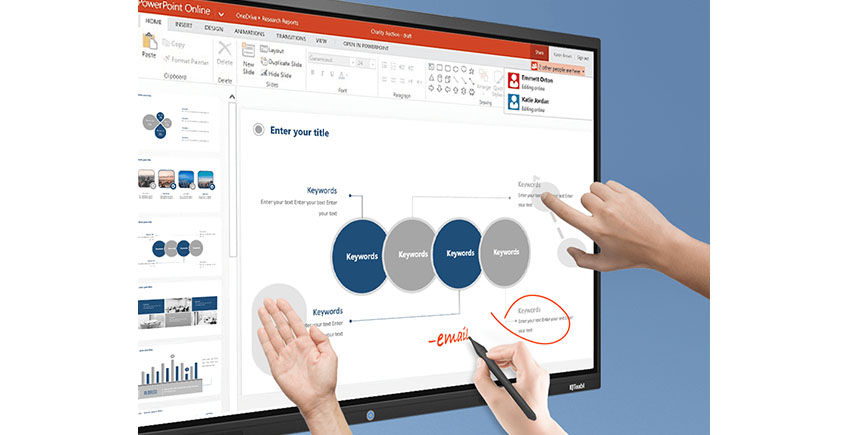 Reduce the Cost
Having an interactive flat panel reduces the need for expensive and time-consuming equipment like projectors and whiteboards. There are also fewer instances of problems occurring during the use. IFP has longer service life, so the maintenance costs are reduced. The built-in Android 11 system of the smart whiteboard is equipped with IQ self-developed software. Like JoinMemos and IQ KitsMemos. Users do not need to purchase additional software. Reduced costs during use. And the screen power consumption of the smart whiteboard is lower. The tempered glass on the surface reduces possible damage to the product during transportation and use.
Various Products
IQ provides users with a variety of products. IQTouch has four different models of interactive flat panels. We also provide other products to be used with IFP such as IQ SmartPen, IQSoundbar SA200, IQShare Button and so on. We can also design different smart solutions for different situations of customers. Complete equipment can be provided to customers' classrooms or conference rooms. Upgrade their space to the higher level. It can also help customers manage existing devices. Our Q-NEX can provide a centralized control management center for their devices. Help administrators manage equipment more easily.
Summarize
Today's smart classrooms and smart conference rooms have become a common phenomenon. But with the increasing number of devices, administrators get bogged down in complicated work. Our company has been committed to the field of education for 15 years. Understand the pain points of users very well. In order to solve customers' problems, we have proposed a variety of intelligent solutions. In order to enable more users to get a satisfactory solution. We can customize solutions according to different needs of customers. IQBoard has more complete functions, easier operation, and more interactions. Make collaboration more efficient. Let the teaching become more vivid and bring you a new experience. Our product range is very rich. Different equipment configurations can be made according to the needs of customers. We have a variety of perfect smart solutions. If you want to know more details about the program, please click on our official website. If you are interested in our products or solutions, please contact us directly. We have online customer service at any time to serve you. Come and join the hot chat, our products will definitely give you different surprises.