Introduction
Deploying smart spaces in modern business and education requires essential equipment such as cameras. However, choosing the perfect camera can be a daunting task for those unfamiliar with them. At IQ, we offer many kinds of cameras, each with detailed descriptions available on our official website www.iqboard.net. You can visit our website for more information. Returnstar Interactive Technology Group Co., Ltd has been dedicated into educational industry since 2006. With 16 years of development, we have been well-known in the global market for our brand-IQ What's more, we would like to give you some suggestions for the selection of cameras .
Image Quality
When selecting a camera for remote conferencing, image quality should be a top priority. Poor image quality can negatively impact video conference. The JoinOne HY200 camera, equipped with a 4K ePTZ camera, can deliver realistic images that make it feel as though colleagues are meeting face-to-face. What's more, the JoinOne HY200 camera is a versatile three-in-one design that comes with built-in camera, speakers and microphones. With this camera, you can enjoy the benefits of having three functions in one device.
Optical & Digital Zoom
There are two types of zooming methods: digital zoom and optical zoom, allowing users to choose according to their specific needs. Our conference camera is with its 8-megapixel high-quality image sensor. It can capture vivid expressions and movements. Additionally, our camera features an optical lens, enabling even more detailed and clear images.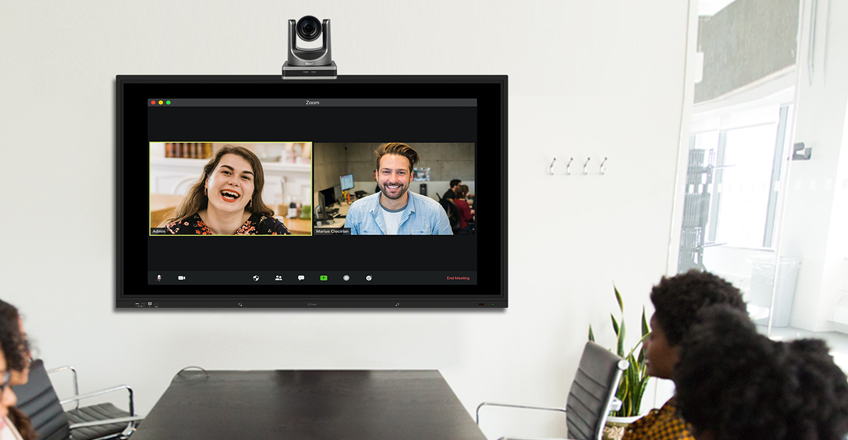 Speaker
Modern cameras come equipped with speakers, giving users the option to select a camera that best fits their budget and needs. Available options include single, two-in-one, three-in-one, and other models. One example of a camera with a built-in speaker, which offers seamless video playback and audio delivering.
Auto Framing
Choosing the right camera can be a difficult task given the many options available in the market. However, the IQ camera stands out as a top choice thanks to its cutting-edge technology. One notable feature is the auto-framing function in the three-in-one conference camera, which automatically adjusts the camera's viewfinder to follow the speaker in a meeting room, ensuring that every participant is captured on screen. With our camera, you won't miss a moment during the important meetings.
Simple Connectivity
Cameras are different from mobile phone built-in cameras, and non-professional photographers may not know anything about cameras. Ease of use is a crucial factor when selecting a camera for them. Our JoinOne Cameras simplify the installation process with their simple USB plug-and-play setup . Connecting and installing the camera is hassle-free, with no need for extra adapters or drivers. It's a user-friendly solution that makes it easy for anyone to start capturing great photos and videos.
Size and Weight
When deciding on which camera to purchase, it's essential to consider the specific use cases that will be required. This is particularly important when considering the size and weight of the camera. For instance, if you're planning to use the camera in a meeting room, you might require a camera that is easy to install and can be moved around if necessary. Additionally, you might require a camera that offers a range of useful features, such as high-quality video and audio recording, remote control, and various connection options.
Price
When purchasing equipment, budget is an important factor to consider. Buyers are often looking for high-quality products at a reasonable price. The price of conference cameras on the market ranges from 150-400 $, and you can choose cameras with different prices according to your needs.
Versatility
When considering camera options, versatility is an important factor to keep in mind. The JoinOne HY200 camera has a three-in-one design that includes a built-in speaker and microphone. This camera can perform various functions, including auto framing and sound processing technology. With its three-in-one design, it can meet the daily needs of users
Conclusion
IQMeet camera is a game-changing technology that offers a range of advantages over other cameras on the market. Its three-in-one feature, automatic framing, ease of use, excellent video and audio quality, and versatility make it the ideal camera for all your video conferencing and live streaming needs. If you're looking for a high-quality camera that delivers exceptional performance and advanced features, look no further than the IQMeet camera. If you're interested in exploring more camera options, please visit our official website. In addition to our joinone cameras, we offer a range of other options including JoinGroup cameras and conference cameras. To discover more about our camera models, simply click here.
Summary
Purchasing a camera can be a complex process, as there are numerous factors to consider. At IQ, we understand that each customer has unique requirements, and we offer a range of products to meet those needs. The JoinOne HY200 AI camera has advanced three-in-one technology as well as the automatic viewfinder and voice tracking functions. This camera can meet your daily business and education needs. Our products are equipped with cutting-edge technology and advanced solutions, ensuring that you have access to the latest features and capabilities. In addition to cameras, we also provide layout plans for smart conference rooms and other smart solutions. Whether you need assistance with product selection or require guidance in designing an integrated solution, we are here to help. Our team is committed to providing you with the best possible support and advice. If you have any questions or concerns, please don't hesitate to contact us. We are always happy to help and offer our expertise. If you have any interested in our products please contact us. We have online customer service at any time to answer your questions. Come join the group chat right now.