Being interactive has always been a teaching philosophy worldwide. Many schools or universities have adopted interactive whiteboards or interactive flat panels to enhance classroom interactions between teachers and students for an upgraded level of teaching and learning efficiency. However, many of us do not know quite well about what they are before deciding on buying either of them. So people must get to know their features, differences, advantages, and benefits before they decide whether they should go for an interactive whiteboard or the interactive flat panel weighing their pros and cons. This article would definitely help you in some way or another whether you want to buy either of them or just want to clear up your confusion about what they are respectively.
1. What an interactive whiteboard is?
Interactive whiteboard is abbreviated as IWB, which is used by teachers in the classroom to replace the traditional backboard or chalkboard for more engaging and interactive education. Teachers can not only display images, power-point presentations, videos, electronic teaching courseware, and teaching software such as IQKitsMemos but also perform a certain degree of control like writing and drawing either with a pen or with your hand gestures like erasing anything you put on it or writing and drawing something on it. But a question being asked is that can the IWB work alone by itself without the support of other devices to achieve all its features as we expected?
2. Can interactive whiteboard work by itself?
It is common that people who have no previous exposure to the IWB might tend to believe that IWB board is pretty much the same as interactive flat panel such as HA1100 PRO, which has its own inbuilt system for supporting all kinds of direct on-board operation. IWB, in the contrary, is a dependent device that must work in combination with the other two key devices: a computer and a projector. So, an IWB board is pretty much like a whiteboard that has no in-built system inside, however, it does have hardware on all side of the frames, which is what we called the signal emitter and receiver that works together to interpret the X and Y axis of the movement your finger or you pen, which are later synchronized to your computer, then finally get projected to the whiteboard through the projector. So when you are writing or putting something on the board or performing certain actions on the interactive display board, you might feel as if you are working on the IWB directly, however everything you see is what is processed by the computer before being projected through a projector to the screen. So its operation mechanism is indirect as opposed to the direct and self-relied interactive display panel. So the working mechanism or the concept of IWB along with its supporting device might somewhat clarify and explain what an IWB really is for some of our users.
So far, we have a better understanding of what the interactive whiteboard is in terms of its working mechanism, how it is related and work in unison with the computer and projector in the real life application. But what is the benefit or advantage of IWB interactive whiteboard?
3. What are the benefits of buying an interactive whiteboard?
When compared with an interactive flat panel, the benefit of buying an interactive whiteboard can be basically characterized by the following five reasons: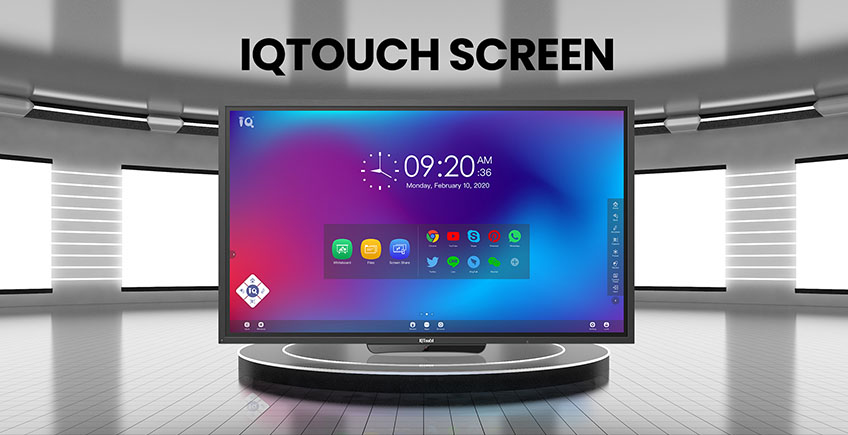 ·Budget-saving: buying IWB can be a good option if you are budget-tight without high demands on the interactive displaying quality in your classroom teaching. To make IWB work, you can get it connected to an existing computer or a laptop dedicated to the classroom, or if teachers tend to bring their own laptop, that will further drive down the cost. And school only needs to buy a projector to support the projection. So it is cheaper than buying interactive flat panel that has its LCD display and its own in-built system. For example, IQTouch interactive flat panel has dual operation system. One is inbuilt system running Android, the other one is detachable OPS module running Android. So if you are budget-tight and do not have high requirements for its interactive and displaying quality, the IWB just is an ideal option for a budget-tight project.
·Easy-to-operate: IWB is easy to operate for people of all ages. First, the IWB does not have its own operation system like Android, projector. so what you need to do is just to get the IWB set up with computers and that's it, So it is much easier who are less technical-savvy and get used to the traditional chalkboard, blackboard, or whiteboard, because they don't have to deal with operation system by tapping on apps and jumping from here and there on the screen for a more complex and interactive teaching result. and sometimes it can be difficult for them to deal with the Android system that is acting up. Second, IWB gives you the convenience of using teaching software that are controlled with icons (keys) on the display. In the most of time, the IWB comes with certain numbers of HOT keys which can be easily used by teachers when they are using such software as IQView Micro-lecture Making, IQKitsMemos, this device comes with abundant resources and subject tools to help enrich your classroom teaching. Third, gesture recognition makes your teaching effortless, on IQ board IFP display, it provides you with 16 points infrared touch, which means you can use gestures to back out a certain function, move something or cancel something while allowing several people to work on the IWB board at the same time.
·Easy-to-maintenance: The IWB can be easily maintained with its simple IWB hardware and projector. In so far as IWB hardware is concerned, IWB is nothing more than whiteboard with little hardware inside except for hardware for X and Y axis-based signal emitting and receiving for example in IQBOARD IR and IQBoard DVT. IR adopts infrared matrix mechanism while DVT adopts optical imaging mechanism. And both IR type and DVT type are the mainstream IWB type on the market. IWB board comes with little hardware with no system inside therefore it is easy to maintain.
·Eye-protective: The IWB with front projection protects your eyes. When you see the images projected behind for example projecting curtain, the light is emitting directly to your eyes, so it might somewhat hurt your eyes, but when a projector cast the image to the IWB at the front, the light directly emitted to the whiteboard, so IWB is more eye-friendly. And the projector widely in use now is mostly with laser bulbs inside for example IQLaser projector.
·Easy-to-Setup: IWB board along with projector can be easily installed. Before use, IWB display position needs to be calibrated on your laptop with related IWB drive software. Once it is calibrated, it is for good without having to constantly change it. However, you will need to calibrate the Hotkey to make it match the software control icons, such as IQ KitsMemos. At the same time. If are using laser projectors such as IQ laser projector you will have on the limitation on where you can set the IWB up, which is because the laser projector comes with a projection ratio of 0.25, meaning the projector is capable of projecting the full-size image to the IWB even when you put it 0.5 meters away from the IWB, so it is pretty lenient on installation space limitations.
Such are the benefits or the advantage of the IWB. Now let's take a look at the disadvantage it has when to compare with IFP board.
4. What are the disadvantages of buying an interactive whiteboard.
·The IWB needs calibrating before use. You will need to calibrate the whiteboard so that the IWB can work in unison with the computer, namely, your computer will be able to interpret the position (X/Y axis) of your finger, marker, and pen via either IR or DVT mechanization. But when it comes to IFP, then you will be free from all these calibrations, and is ready to use.
·The IWB cannot work by itself. As you know IWB has to work with a computer and projector, therefore if any one of them goes bad, for example, when projector lamp is broken, it can be inconvenient to maintain or repair it. However IFP has its own system, hardware, and LCD screens, therefore it is just plug-and-play.
·IWB has fewer features with limited scalability. When compare with IFP , which has all kinds of apps, for example, EShare Pro, which allows the students to share the screen contents from their smart phone or laptop to the IFP display, however IWB just cannot do that, and it does not help teachers to create an interactive, engaging, and collaborating environment comparable with that of IFP display.
In summary, Interactive whiteboard has its own advantages that can be summarized as budget-friendly, easy operation, easy maintenance, easy installation, and eye-protective, which can be a good choice for schools who want to cut down cost in the deployment while paying less attention to its display quality, collaboration, interaction, engagement, and powerful features brought by Android OS. While the Android-loaded IFP screen display can be expensive but it brings you display images with high resolution and powerful software that will maximize your collaboration and interactions with the students. With all these bear in mind, it is easier for you to choose between them.