The ability of technology to change life is beyond doubt. But have you ever imagined using an intelligent pen to transform and innovate your life? This article will tell you the five most valuable smart pens to use in 2023 based on market research and various analytical dimensions.
1. The market trend in smart pen
From a macro perspective, the digital support policies of emerging economies are driving the development of the intelligent pen market.
1.1 The advantages of smart pens
The smart pen has various sensors, such as infrared cameras, pressure sensitivity, position sensors, and accelerometers, giving it advantages. Smart pens are considered multifunctional, precise, and effective tools in various industries such as healthcare, education, banking, and retail.
1.2 Market application status of smart pens
Traditional chalk methods are inefficient in education and teaching, and the visibility of written content is low. As a substitute for conventional chalk, smart pens have built-in algorithms that can recognize writing marks and present clear written content to the audience. Users can also record text, charts, drawings, and quick notes by transferring the smart pen to a computer. Smart pens are expected to grow at a compound annual growth rate of 13.4%. In addition, China and India are promoting the application of digitalization in the healthcare and banking financial services industries.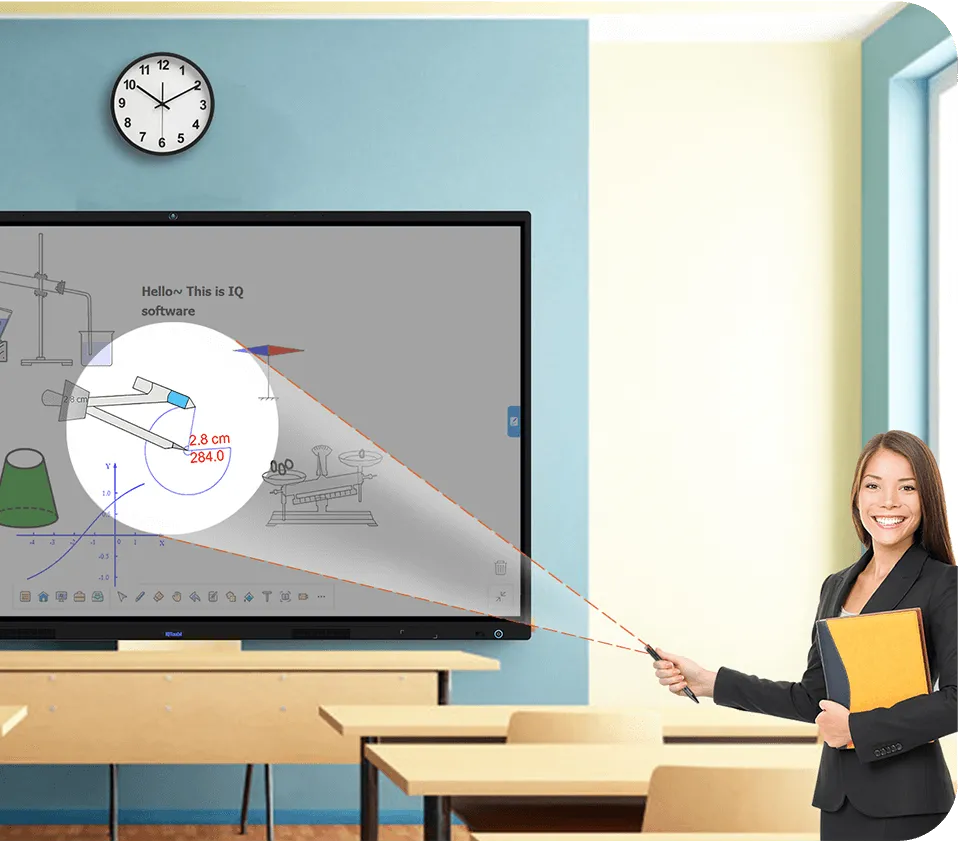 2. The considerations when choosing a suitable smart pen
When choosing a smart pen, we need to consider multiple factors reasonably. Here are some evaluation criteria for your reference.
2.1 Compatibility and adaptability
Choosing a suitable smart pen requires considering its compatibility and performance. You need to check if it is suitable for your smartphone, tablet, or computer. Ensure that the selected smart pen is compatible with your device or operating system, to create a seamless experience during use.
2.2 Writing experience
An excellent smart pen should provide a natural and smooth writing experience, making users feel like they are using traditional paper and pens. The tip of the smart pen should slide smoothly, and there should be no obvious delay or stuttering when writing. A pen that provides a smooth and natural writing experience can provide a satisfying writing experience. And enable users to easily and naturally digitize writing and drawing.
2.3 Functional diversity
Choosing a suitable smart pen requires evaluating the characteristics and functions of the pen. We need to consider whether the smart pen provides handwriting recognition, pressure sensitivity, anti-palm touch, and eraser functions. Even customizable buttons or other features that meet your needs and preferences.
2.4 Charging method and battery life
Convenient charging methods can help users continuously focus on the task and improve work efficiency. Users can connect to a computer, charger, or other power device through the mainstream USB charging interface.
In addition, smart pens with long battery life can last for a long time, allowing users to write, draw, or perform other tasks for a long time without worrying about battery depletion, while also reducing the need for frequent charging.
2.5 Ergonomic design
The design of shape and lineament of smart pens are crucial for long-term use. Choose a pen body shape and size that conforms to ergonomic design, so the users can maintain comfort while holding a pen, reducing fatigue and avoiding burn-out.
3. Top 5 smart pens worth using globally
After considering and evaluating based on the above standards, we have selected the five most valuable smart pens to use globally.
3.1 Apple Pencil
Apple Pencil is one of Apple's core products. It's easy to use. By providing users with an indescribable user experience, Apple Pencil can meet the application requirements of drawing, taking notes, and annotating documents. Apple Pencil also features low latency, tilt angle sensing, and anti-palm touch product performance.
3.2 IQ SmartPen V2.0
Powerful IQ SmartPen V2.0 is an intelligent assistant that can ensure you have efficient meetings throughout the entire process. Utility IQ SmartPen V2.0 has strong compatibility, custom button function, and adsorption design features.
It provides a variety of user-friendly tools. For example, a magnifying glass clarifies details, a spotlight emphasizes content, etc. With just a small pen, your presentation will be smoother than ever. You can annotate anytime and anywhere through it. Pressing and holding the function key lets you quickly enter annotation mode. You can also adjust the thickness of the pen to distinguish the importance of different annotations.
In addition, the multifunctional IQ Smartpen V2.0 also serves as a laser pen or wireless demonstrator. You can use auxiliary tools to highlight the key points you want to emphasize.
3.3 Moleskine Smart Pen
Moleskine was born in 1997 and emphasizes handwriting experience and writing traditions. The Moleskine Smart Pen has a longer lifespan and improved grip. Its real-time synchronization function allows users to create digital notes while writing, further enhancing the intelligent experience for customers.
3.4 Wacom BABOO Ink
Wacom BABOO Ink is an intelligent stylus for Windows Ink that can write, take notes, and annotate. Wacom BABOO Ink does not require cumbersome pairing procedures. You can start writing when you tap the Windows Ink workspace icon or your favorite application on the screen.
The Bamboo Ink features a cylindrical shape and a durable aluminum pen body. It is also paired with three pen tips, namely soft, medium, and hard ground, to adapt to different work needs. Create a comfortable pen-handling experience for users on the screen.
3.5 Samsung S Pen
The Samsung S Pen allows users to write effortlessly, with simple operating functions that allow them to doodle, sketch, and jot down their thoughts at any time. The 0.7mm ultra-fine pen tip has a pressure sensitivity of 4096 levels, providing smooth strokes and a natural writing experience, just like writing on paper.
4. The innovative features of the magic IQ smart pen
Although some of the above products have irreplaceable high-quality performance, there are still many shortcomings, and not all smart pens are suitable for the unique needs of the presentation.
for example, Moleskin's battery life is shorter than some other brands, and its internal storage capacity is also smaller than other smart pens. Its matching smart laptops are also more expensive than most products. The Apple Pencil brand has a high premium and prices higher than some competitors. It can only be adapted to the Apple-compatible iPad. The pen's functionality is limited and we cannot make further annotations by taking screenshots.
Here are some good reasons for choosing the general-purpose IQ SmartPen V2.0
4.1 Meet personalized usage demands
You can switch colors and pen tips according to the scene's needs. Feel free to change the color and width of the pen, presenting different content with different colors and tip thickness.
You can also meet more choices by setting custom keys. Suppose you don't like the default button functions of IQ SmartPen V2.0. In that case, you can customize and choose your preferred button function settings according to different needs.
4.2 Collaboration with IQ software and hardware
Capable IQ Smartpen is compatible with three major mainstream systems: Mac, Android, and Windows. Regardless of the type of touch display you use, IQ Smartpen can be connected to it. Also, by customizing each key's function of IQ SmartPen based on IQ Interactive Education Platform V8.0 software, the lecturer could use a smart pen with the software to deliver more efficient speech.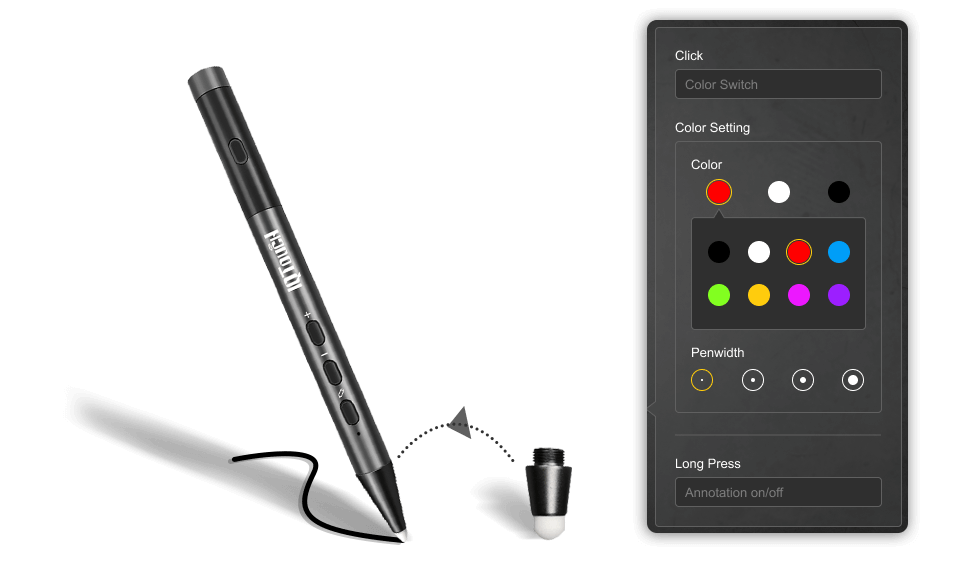 4.3 Easy maintenance and protection of IQ SmartPen V2.0
The intelligent IQ Smartpen has a 150mAh lithium battery that allows for up to 50000 consecutive button clicks after a full charge. It is easy to charge the pen with its universal micro-USB interface design. The pen has an adsorption design that allows it to be magnetically mounted on any part of your display frame. This ensures you always know where to find the smart pen when needed and helps keep your meeting room organized.
5. Final thoughts
As a convenient tool, smart pens are becoming increasingly popular worldwide. After the analysis and comparison in this article, I believe you already have the best smart pen purchasing plan. If you are interested in versatile IQ SmartPen V2.0, you can click here to contact us.
Here are some other articles that we think might interest you:
Enhancing Learning Experiences: Exploring Classroom Audio Visual Technologies
Enhance Classroom Efficiency with Touch Panel Control Systems for Education
Transforming Education with Advanced Classroom Control Systems