· Benefits of Classroom Video Conferencing
o 1. Global Access to Resources and Expertise
o 2. Enhanced Collaboration and Peer Learning
o 3. Bridging the Distance Gap
o 5. Flexible Learning Opportunities
· Implementing Classroom Video Conferencing
o 1. Determine Learning Objectives
o 2. Find Reliable and User-Friendly Tools
· Best Practices for Classroom Video Conferencing
· Future of Education: The Role of Video Conferencing
Classroom video conferencing enables teachers and students to connect with experts, collaborate with peers from around the world, and explore new possibilities that were once beyond their reach. In this article, we will explore the benefits of classroom video conferencing, discuss how to implement it effectively, and delve into the future of education with this technology.
Benefits of Classroom Video Conferencing
1. Global Access to Resources and Expertise
One of the key advantages of video conferencing in the classroom is the ability to access a vast array of resources and expertise from anywhere in the world. With a few clicks, students can connect with guest speakers, subject matter experts, and renowned educators who can enrich their learning experience. This opens up new possibilities for exploring different perspectives, gaining insights, and broadening horizons beyond what is typically available within the confines of a traditional classroom.
2. Enhanced Collaboration and Peer Learning
Video conferencing allows students to collaborate with their peers in other classrooms or even in different parts of the world. Through virtual classrooms, they can work together on projects, discuss ideas, and learn from each other's diverse perspectives. This fosters a sense of global citizenship and prepares students for an interconnected world where collaboration and teamwork are key skills.
3. Bridging the Distance Gap
Classroom video conferencing enables schools in remote areas or underserved communities to overcome geographic barriers. It enables students in these locations to connect with resources, opportunities, and experts that were previously out of reach. This levels the playing field and provides equitable access to quality education, regardless of one's location.
4. Real-World Experiences
Video conferencing brings the real world into the classroom. Students can virtually visit historical sites, museums, or other relevant locations, allowing them to have a firsthand experience without leaving the classroom. This immersive learning experience enhances understanding and engagement, making education more meaningful and memorable.
5. Flexible Learning Opportunities
Video conferencing allows for flexible learning opportunities, as it eliminates the constraints of time and space. Teachers can invite guest speakers or schedule virtual field trips without the need for logistical planning or incurring travel expenses. Additionally, students can engage in live or recorded sessions, giving them the flexibility to revisit the content at their own pace or participate in discussions from the comfort of their homes.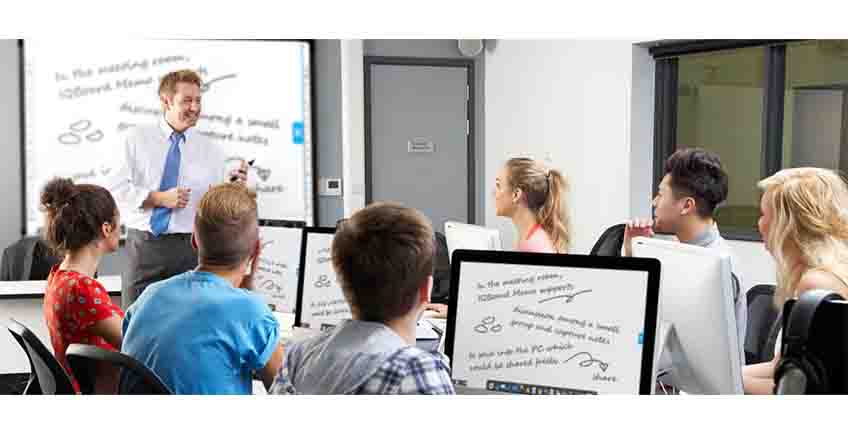 Implementing Classroom Video Conferencing
To successfully implement classroom video conferencing, educators should consider the following steps:
1. Determine Learning Objectives
Before integrating video conferencing into the classroom, educators should identify clear learning objectives for their students. By having a solid understanding of what they want to achieve, teachers can purposefully select video conferencing opportunities that align with their instructional goals.
2. Find Reliable and User-Friendly Tools
Choosing the right video conferencing tools is essential to ensure a smooth and effective learning experience. Educators should consider tools that are reliable, easy to use, and provide the necessary features for collaboration and interaction. One such tool is digital-podium, which offers a comprehensive suite of video conferencing features designed specifically for the education sector.
3. Prepare Students
Introducing students to video conferencing etiquette and protocols is crucial for successful implementation. Educators should familiarize students with the platform, teach them how to navigate its features, and set expectations for behavior during virtual sessions. This will help create a positive and inclusive learning environment for all participants.
4. Plan Engaging Activities
To maximize the benefits of classroom video conferencing, educators should design engaging activities that leverage the capabilities of the technology. This could include interactive discussions, group projects, virtual field trips, or even collaborative research projects with students from different schools or countries. The key is to create opportunities for active participation and meaningful interactions.
5. Reflect and Adapt
After each video conferencing session, it is important for educators to reflect on the experience and gather feedback from both students and guest speakers. This feedback loop allows for continuous improvement and helps ensure that future sessions are even more effective. Educators should also remain open to adjusting their approach based on the needs and preferences of their students.
Best Practices for Classroom Video Conferencing
To make the most of classroom video conferencing, educators should consider the following best practices:
1. Ensure a stable internet connection to minimize disruptions and maintain seamless communication.
2. Use a high-quality audio and video setup to enhance the overall experience for all participants.
3. Encourage active participation and provide ample opportunities for students to ask questions and share their thoughts.
4. Establish clear guidelines for student behavior during video conferencing sessions to maintain a respectful and inclusive environment.
5. Provide technical support for students and guest speakers to troubleshoot any issues that may arise during the session.
Future of Education: The Role of Video Conferencing
As technology continues to advance, the role of video conferencing in education is set to expand even further. With the recent shift to remote and hybrid learning models, video conferencing has become an indispensable tool for facilitating distance learning. It allows for seamless communication and collaboration, and provides students with the opportunity to learn from global experts and engage with classmates in a meaningful way.
In the future, video conferencing is likely to play a significant role in personalized learning, enabling educators to tailor instruction based on individual student needs. It also has the potential to bridge the gap between traditional classroom settings and online learning platforms, creating a more integrated and immersive educational experience.
In conclusion, classroom video conferencing has the power to transform education by providing access to global resources, enhancing collaboration, bridging geographical barriers, and bringing real-world experiences into the classroom. By following best practices and embracing this technology, educators can create engaging and meaningful learning experiences for their students. The future of education is undoubtedly shaped by video conferencing, as it continues to evolve and redefine the boundaries of traditional classroom settings.