Meetings and discussions are needed in businesses and schools. But not all organizations will have a dedicated meeting room. They may just sit in their seats and have discussions. The reason for not having a meeting room may be budget constraints. Some people lack of experience in building smart meeting room. IQ has been an intelligent solution provider since 2006. So we have the rich experience in the AV industry. More than that, we hope to bring users more relevant tips. You can browse more detail on our official website. If you have any interest please let us know .
1. How to set a meeting room?
Before answering this question you could consider these issues. You can get the answers in the process of finding the questions. Understand what questions you need to ask in remodeling AV technology in your space. And these issues could help you to build a success meeting room.
1.1 What is the styles of your employees?
For most businesses, employees are not in a one area. In general, they can be divided into three styles. The first is permanent office-based. These are employees who work from just one location or a series of offices. The second is the telecommuting type. These employees may be designated to work outside. Finally, employees are on-site. These workers are mostly technicians or engineers who work on projects. When you choose the smart devices you should consider the type of workers. If you have telecommuting workers you should buy a camera for sharing the content. The better image is better for discussing during the video conference.
1.2 How to improve the efficiency of collaboration?
When you get the style of your employees. And then you need to think about how to improve the efficiency of collaboration. If you have a small team with less than 10 people, then you need to call your employees in one room. A smaller space with just one screen will be enough. Teams with remote and on-site employees often need to need video conferencing. So you can also consider how to pick equipment in the following ways.
·What type of content do you need to share? Sound, images, or simple documents?
·Is there a brainstorming type of meeting?
·Do you need the interactive whiteboard to have a sticky note feature?
·How will the meeting content be shared after the meeting?
·Do meetings usually require multiple people to present content?
·Do you need to view multiple content sources at the same time?
·Will these meetings be held in one place? Or does the meeting need to invite many groups at the same time?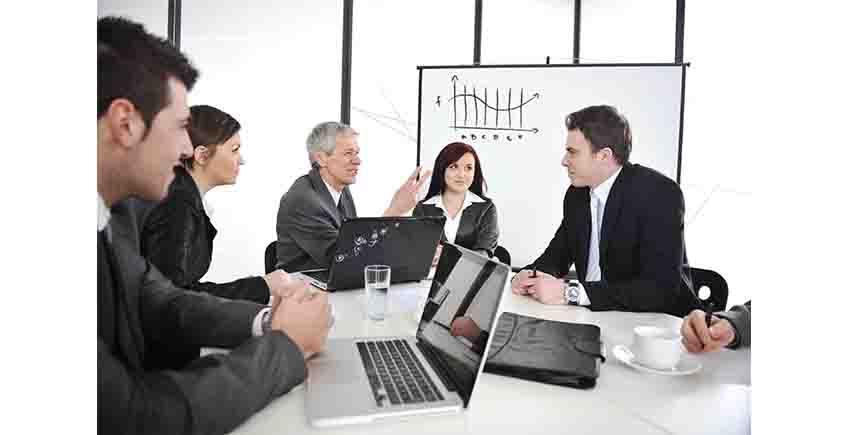 1.3 What kind of space do you have?
Some organizations don't necessarily have just one conference room. Look at where employees usually meet. IQ has prepared different types of intelligent meeting solutions to provide the most suitable one for our customers. We have a variety of solutions. I will take the Studio smart solution as a sample to show you in greater details.
·The Studio
If your meeting room is 20㎡-30㎡ then this is the solution for you. IQConference Microphone and IQSound bring you Full HD images and 360°pick-up sounds. It makes you feel like you have your partner right in front of you when you are having a video conference. The solution also includes a monitor, the IQ Wireless Presentation System and more. IQWireless Presentation WP40 with IQTouch panel allows you to BYOM. That means you can use wireless transmission using the interactive flat panel's camera and microphone. It is easy to share meeting content in real-time.
·Next Gen Conference Room
·The Auditorium
·The Ideation Hub
·The Vibe
1.4. What AV equipment do you need?
When setting up a conference room you need to consider the AV equipment. First and foremost is the picture to be displayed, the sound to be played, and the connection of the different devices. In most meeting spaces displays are needed for presentations. That is why it is very important to buy interactive whiteboards. To better share your employees' computer screens, a wireless presentation system is a good choice for you. If you need more information, please contact our customer service staff. He is online 24 hours on our official website.
1.5. Do you need an AV integrator?
This question needs to be analyzed according to different situations. IQTouch suggests you use commercial integrators. IQTouch recommends that you use a commercial integrator because they have specialized knowledge. When you purchase the product you can install it according to their program. If you are worried about your budget. You can contact IQ's after-sales staff. We have professional training to provide you installation course. Even in the later use of the process, if there is anything you don't understand,you can also contact our after-sales personnel. We will be ready to serve your need.
Summary
Conference rooms are being increasingly emphasized in educational and business environments. How to build a meeting room requires you to learn many aspects of knowledge. When you need make your conference room to the higher level, you need buy the interactive flat panel, the wireless presentation system, microphone and so on. If you need find a professional company partner IQ is a nice choice. IQ has more than nearly 20 years of experience in the AV smart solution industry. And IQ has a wide range of smart solutions. We can customize the solution for our clients. Because users maybe have different spaces. To offer the suitable solution you can told us your needs. We can provide not only mature hardware products but also a wealth of software. Let you share the content in the meeting more smoothly. If you have any needs please let us know here. We will provide the most suitable smart solution for you.