Accompanied by the rapid development in IT technology, everything goes smarter, for example, your smart phone, smart tablets, and so on. An interactive display panel is no exception. The interactive display is getting popular and has become widely used in different scenarios mainly related to teaching application scenarios and company office scenarios. Apart from common functionalities such as writing, drawing, making the presentation, running movies and other video content, and screen sharing, what key features that an interactive flat panel should possess to help better serve people's needs? In this article, we explore with your about why and how AI camera can free people from worries while at the same time creating a more collaborative and engaging user experience.
1. 4K AI Camera
Nowadays, having a hybrid meeting involving both local meeting participants and remote meeting participants is common place. And sometimes, the remote participant can be an important person in the company like a general manager, a CEO, the board of directors, or even important overseas customers. Given the importance of the meeting, people starting to get worried about how to organize a remote meeting to better engage them, which is because you not only want to get your ideas across to them but also want to make them feel like they are actually in the meeting, with ability to hear people who is talking and who are there in the meeting. But is it hard to achieve what has been mentioned here on the interactive display. Well, IQTouch HA1100 Pro interactive display can serve as a solution.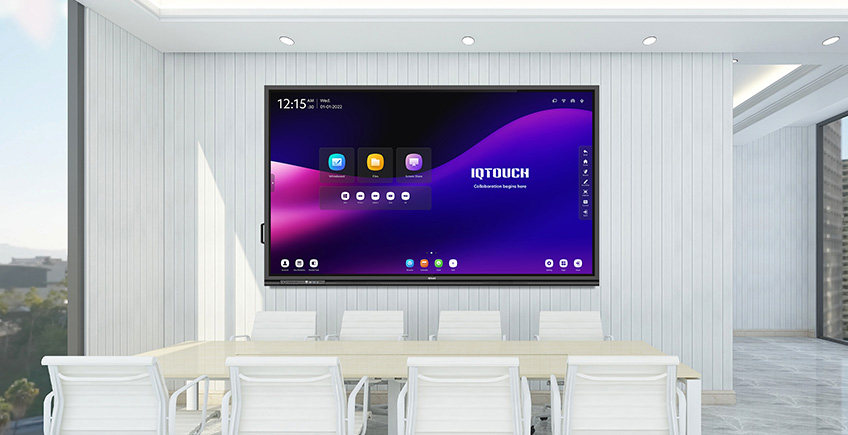 IQTouch HA1100 Pro comes with two cameras, with the AI camera on top and the document camera at the bottom. With the AI camera, you can successfully bring your laptop or a dongle to call a meeting for the in-room meeting participants and remote participants at the same time. You can access the camera from your mobile device, for example, a laptop to share the live video captured by the camera to someone remotely for a meeting via Zoom, and so on. To be specific, the AI camera has two prominent features, auto-framing and auto voice-tracking. These two features are what bring about an interactive and collaborative meeting experience for remote participants.
2. Auto-framing
It goes like this, when you turn on the auto-framing feature, the remote meeting participants can see all the people attending the meeting because the camera is capable of bringing all the people in focus in the frame. And this makes it easier for remote participants to see who are there in the meeting, thus making them feel respected, therefore for a higher sense of involvement. And but sometimes, it is important for a remote participant to be able to see who is talking while observing their facial expressions. And if this case, auto-voice tracking is what is needed.
3. Voice-tracking
When it comes to business negotiations or important company meetings involving remote participants, it is all the more important for the remote participants to see the expression of the people who are talking. And the magic power of the voice tracking feature on the camera is that it would automatically bring into focus the one who is talking for 5 seconds continuously, therefore the camera will be able to recognize the speaking event while eliminating the non-speaking one. So the remote participants can always hear and see the talking person and this really help increase the interaction, collaboration, engagement, and involvement of the remote participant. It not only helps maximize the meeting efficiency but also creates more business opportunities by creating virtual face-to-face communication. In short, it brings people closer. In the meantime, the 4k high-definition image from the AI camera also plays import role as it enables the remote participant to see and hear better what is going on in the meeting.
With the help AI camera, you can bring your own laptop to hold a BYOM meeting using a dongle or via sharing software like Eshare. But can we go without the dongle or Eshare? We will talk about this in the following sections.
4. AI camera through Type-C Interface
Although dongles and sharing software like Eshare are getting popular, sometimes you might get into a situation where you have neither dongles nor do you have EShare Pro pre-loaded on your personal computer. And assuming that you are visiting your customer's company for making a hybrid demo involving local participants and remote participants, but only to find the company you visited has not prepared a dongle or loaded their interactive display with Eshare for you, how would you handle that? But it is completely no problem with HA1100 PRO. IQTouch HA1100 Pro comes with a Type-C interface that would enable you to hold a BYOM-based hybrid remote meeting or a hybrid class without having to use the dongles and Eshare. What you need to have is nothing more than a type-C USB cable and a laptop. By connecting the Type-c USB cable to the Type-C interface of the interactive flat panel, you can easily access the AI camera from your laptop via the USB cable. So type-C on IQTouch HA1100 Pro can serve as a good alternative when both dongle and Eshare software are not available.
Too much about the AI camera on top, let's take a look at the bottom one.
5. Bottom Document Camera
In school, or meeting room document camera is a regular device for presenting something. However, when the document camera fails or simply there is none, then it can be a problem. IQTouch HA1100 Pro comes with a camera at its bottom. Imagine that if your document camera doesn't work or simply you don't have one, what would you do? Well, with the bottom camera, you can present everything you like under it, for example, A3 paper file, or QR code. Very convenient and handy either in a meeting or in a classroom.
To sum up, the dual camera on the IQTouch HA1100 Pro is instrumental in the bushiness application scenario and education scenario. With AI camera, you can bring your own meeting easily with both local and remote participants while achieving closer, more interactive, collaborative, and virtually face-to-face communication between local and remote participants. And IQTouch HA1100 Pro offers you great flexibility as it allows you to access its AI camera via a dongle, EShare Pro, or even with a USB cable. Moreover, the bottom camera is handy when it is necessary for you to present something like a paper document or scanning a QR code to open up a website for presenting something whether it is in the meeting or in the classroom.