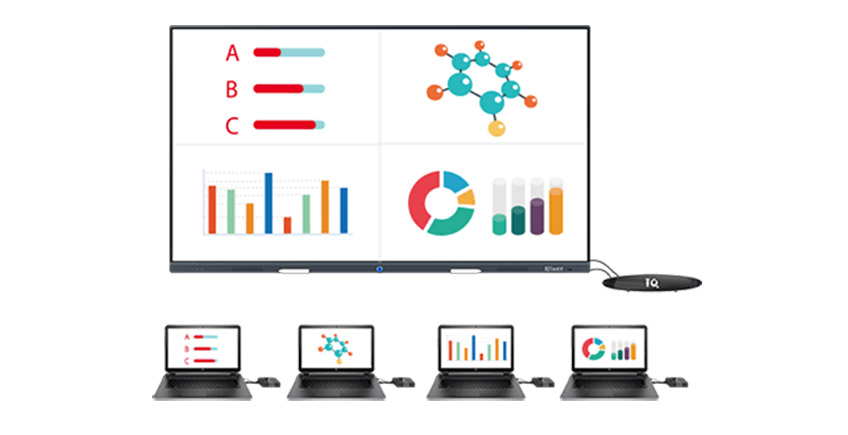 Screen sharing for better presentation
Have you ever experience that you can't directly present on the large touch screen while you want to share your plans or ideas during the meeting? In the past, we usually used a USB flash drive to copy in advance but it has limitation that we can't modify the content in real time. However, our IQShare WP32 is expected to bring you more flexibility, including a small share box and share button, which will not occupy too much of your desk. You can use share button to directly cast your screen on the large screen without extra cable to connect to your laptop. It is also convenient pair the share button to your laptop, just insert the share button into the large touchscreen, and it will show pairing about 10 seconds. Then pull out the share button and insert to your device to use. Easy to plug and play with one tap to share screen, everyone can do it. There are no cable restrictions, but one thing you need to consider is that user becomes lazy...just joking. For our IQ share button, we provide three types of interfaces (HDMI, USB and Type-C) to meet the needs of different device connection ports.
Multi-system compatibility which includes IOS 8.0 and above, windows, Android, Mac, Chrome or Linux allows more interaction and simultaneous screen sharing by single or multiple devices of different conference participants. It supports up to 8 devices connection and up to four devices displayed on split screens for screen group simultaneously. Two-way touch control plays an important role to control the screen whether your control is from IQTouch or your own device when you cast the screen to IQTouch interactive flat panel. It helps the user share his screen to large screen while he is on the front of the large touch screen for presentations. When the user is walking in the room or away from the large screen, he does not need to return to his seat to operate the laptop and directly touch the large screen from his device.