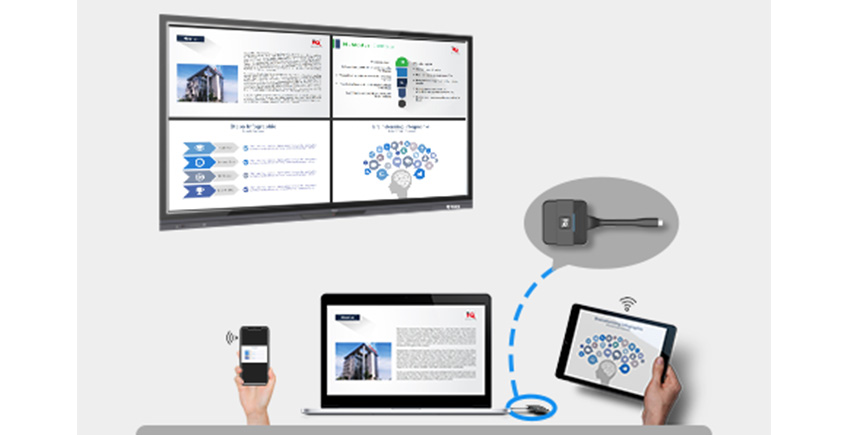 The transformation for the way people conduct meetings
An Interactive Flat Panel Display (IFPD) is a large touchscreen display ideal for meeting rooms and collaboration spaces. It features higher-quality displays, enhanced connectivity, and built-in software solutions to replace outdated projector technology. These solutions are perfect for both education and business. With an interactive flat-panel display, you will receive great screen resolution, built-in software, and so much more.
It's an office display solution that will make everyone love meetings again. Simply put, IFPD is a type of interactive whiteboard (IWB). An IWB is a large electronic display with a touchscreen that is capable of accessing, manipulating, and interacting with electronic files. In essence, it's a giant tablet computer that you can use to present or collaborate. A Next-Gen Office Display Solution, the next generation of digital technologies is transforming the way people work together. After nearly half a decade's worth of rapid digitization, leaders are now turning their sights on the meeting room. So there's an exciting transformation in the way people conduct meetings. And, like any other great leap, this transformation depends on having the right technology. Technological development is where the IFPD comes in. What is IFPD? Interactive flat-panel displays facilitate you to conduct meetings and presentations, allowing your team to do their best. Handle highly collaborative demands effortlessly in today's office spaces with 20 touchpoints and wide viewing angles. With ultra-fine 4K resolution options and the ability to present a surprisingly natural handwriting experience, IFPD supports communication and collaboration in the meeting room like never before.