We all know that hot topics about technology now are AI, VR, AR, MR, IoT, Cloud, etc.When talking about management, IoT, Cloud may come into our minds, and we have applied these concepts for homes, that's our Intelligent Homes which provide life conveniences as most of us are familiar with. BUT how about we apply these to our schools? Homes give us comfort while children are our future. Yeah, we have now IQSchool solutions which integrate IoT, TCP/IP, and Cloud concepts, that's our Intelligent Schools.And it will be the near future for schools.
I'd love to give introductions and roadmap of IQ who is spending tons of efforts on the IQSchool solutions.
Returnstar Interactive Technology Group Co., Ltd(Stock Code 836453), with IQBoard as the main brand, dedicated into educational industry since 2006. As time goes by, business solutions are taken into another developing direction. However, I??d like to talk more about our educational industry roadmap as for concerns of Intelligent Schools.
Generally speaking, we offer two solutions which are IQclass Solutions and?IQSchool Solutions.
With IQClass solutions assisting on the teaching for teachers and students, classes are turned out to be more interactivities and with more fun. While C/S(Client-server) based software IQClass takes care of before , during and after classes, which shows the core value of our educational software, to realize interactivity between teachers and students, education management, tests, tasks allocation and evaluation and others, B/S (Brower server) software IQClass+ makes online teaching possible, and the only thing you need is a networking cable. On the other hand, Returnstar has IQBoard as interactive whiteboard(IWB), interactive flat panel(IFP), document camera, laser projectors, etc.
Educational market mainstreams are small sizes IFP 55?? 65??75?? for classrooms available for less than 32 students and IWB+Laser projector solution but with bigger size for classrooms available for students above 32. Our latest product projected capacitive touch(PCT) could be taken into consideration for larger classrooms for 90 students with its 7 meters in width. In the market, share of IFP and IWB+Laser projector is around 50% versus 50%. The IWB+Laser projector will still be leading the bigger size market because of its size with more value, while small size IFP is in charge of the smaller size market. This will remain for a period of time. Returnstar offers competitive solutions in both markets with both quality and cost concerns.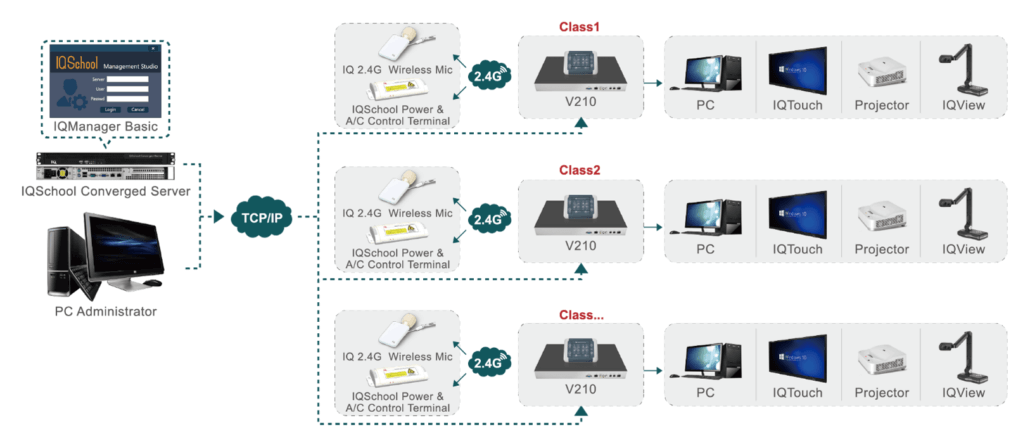 Compared with IQClass solutions, IQSchool solutions are applying IoT and TCP/IP concepts which are the keywords for IT world. Administrators are able to get a better management of the school electric equipment. With help of the software and converged systems, all the devices can work automatically according to the schedule set up by administrators or principal, including A/V broadcasting simultaneously or separately, turning on or off when it??s necessary, and interacting with other classrooms. Even remote management and interacting are supported from overseas. Beta version of management software for mobile platform is available now. This will be the symbol of modern schools, smart schools in the near future. What??s more, our target is to achieve more functions for more customization demands from different schools with different characters. The connection with Facebook, Wechat, and other social media is on the developing list.
We look forward to the future that we can provide more and more help on learning and campus management for students, teachers, principals, ICT administrators, and parents. And we'd love to grow up with you together.