Interactive tablets are revolutionizing the way we teach, train and present. Interactive technology enables you to present and capture all content of a training or teaching session in real time. The interactive touch screen can be connected to a PC, laptop or Mac and display your presentation on a 55", 65", 75", 85", 86 or 98" LCD or LED panel. Your audience will be captivated as you open apps, browse the web, type information using the virtual keyboard, add comments on top of displayed information, or use existing interactive whiteboard software.
Benefits of IQTouch's Newest Smart Whiteboard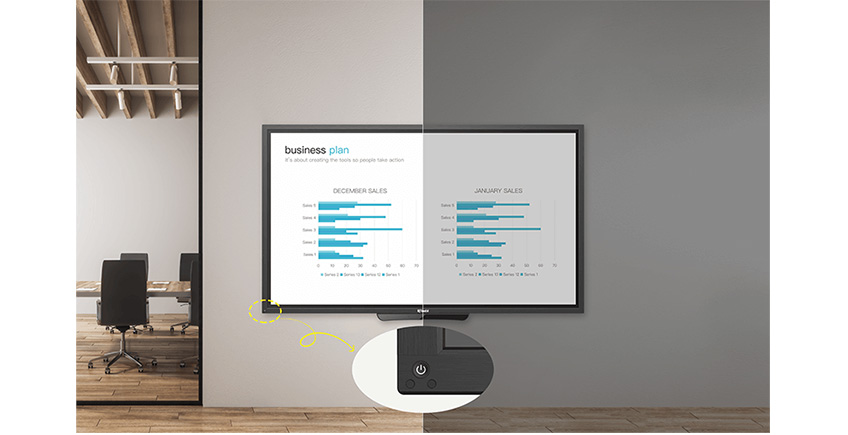 There are many health risks in classrooms, such as poor air quality and bacterial buildup. When such risks are prevalent, learning efficiency may be affected. According to the Australian Association for the Study of Children and Young People, students miss an average of 8.1 days per term, with illness accounting for 52 per cent of all specified absences. Even the smallest steps can help reduce the amount of time students spend on sick days.
IQTouch displays help protect students and educators from these risks. The display technology covers everything from eye care, bacterial resistance to CO2 monitoring, creating a safe and healthy space for teachers and students.
IQTouch is a must-have tool for any school aiming to improve learning efficiency. Reducing health-related risks in the classroom can improve productivity. Between reduced absenteeism, improved concentration and an intuitive screen that can be viewed for extended periods of time, interactive flat panel displays can take your school learning environment to the next level.
Many eye problems can start at a very young age due to children's constant exposure to screens. Between the risks of blue light and glare, it is often necessary to limit screening time to reduce the risk of eye disease.
IQTouch interactive flat panels are TUV certified flicker-free screens with motion sensors. The low blue light feature also allows students to spend more time in front of screens, which can help improve productivity. In addition, the anti-glare function reduces reflections, making the screen easier to see, thus increasing the viewing time of the screen.
IQTouch brings educational technology to students without letting technology get in the way of their learning. It is specially designed for education, both teachers and students can experience the smooth effect of touch screen in the classroom. This screen can also double as an interactive whiteboard as it offers the ultimate versatility for taking notes, drawing diagrams, inserting images and more.
Teacher-friendly features like full Internet access and easy connectivity allow teaching to start right from the box. IQTouch can be operated from an internal PC without the need to connect cables and install software. This durable, versatile interactive flat panel is no compromise and can be used in a variety of applications including classrooms, conference rooms, lecture halls and more.
Classroom Smart Whiteboard Contact us to see what is an educational interactive tablet system. Use our smart board, connect IQShare with IQTouch, then plug IQShare lite into the teacher's laptop, just one touch, you can share the files on the IQTouch wirelessly, the teacher can use IQView to share the experiment on the screen step. What's more, with IQClick, teachers can quickly set up questions and students can answer them easily. It facilitates communication between speaker and audience, helping to create a lively atmosphere. If the teacher wants to implement a remote panel, we also have the IQ Smartpen air mouse, the teacher can turn the page up and down, play or pause the video. When you get all of the above, your classroom can be more interactive.
Now let's see what is an interactive tablet system for meetings. The highly integrated IQTouch creates an atmosphere of collaboration and interaction in the workplace. Present, collaborate and share ideas in one step by wirelessly casting your device, plug IQShare lite into your laptop, and play files on IQtouch C Pro wirelessly with just one click. Everyone can share ideas on the screen by using IQShare Lite. With conference phones and cameras, people in different places can freely share ideas in video conferences.
More importantly, we can provide the IQAio synchronization solution system, a highly integrated IQAio synchronization solution that combines traditional teaching with classroom intelligent teaching. With just one switch, the combination of interactive whiteboard and greenboard can realize double-board interconnection and double-board interaction functions. Bundle with IQ interactive education platform software to extend teaching beyond the classroom, that is, teachers can play courseware or videos on the interactive whiteboard on the left, and write with dust-free chalk on the green board on the right.
Interactive apartmentpanel display (interactive display, interactive whiteboard or smart board) is an excellent smart board that offers many opportunities for collaboration through new technologies and helps teachers and students by providing them with an interactive and collaborative learning environment, enabling better wear learning capabilities and cloud storage that supports easy data management.
If you are interested in any of our smart board, feel free to find more information on our website www.iqboard.net.