Last time we gave you 5 tips to think about how you are going to choose the right interactive panel for your classroom, now heres the other half of our thoughts:
Internet access – Wired or wireless?
As weve mentioned before, teachers are given two options of operating system when using nowadays interactive screens: Android and Windows. These two systems are built in separate modules inside the panel, both require network connection if internet access is needed under the two OS. Therefore make sure the network interface (an RJ45 input port) is available for your machine, or at least there should be Wi-Fi connection to allow basic web browsing. An extra point could be awarded to those manufacturers that offer both wired and wireless network options.
Never underestimate the sound effect
Interactive panels for education purpose are often used by the teacher to play music or movies in class to make students more engaging. Besides the 4K resolution to ensure supreme image quality, the integrated sound system is also worth your attention to achieve comfortable audio quality. The built-in speakers for most of interactive panels in the market are 2*10W due to limited space within the screen, especially since the current trend is towards slimmer frame and thinner structure design. However it makes great difference where the speakers are embedded in the front or back, and user experience has told us that front facing speakers present much better sound effect than those built in the rear.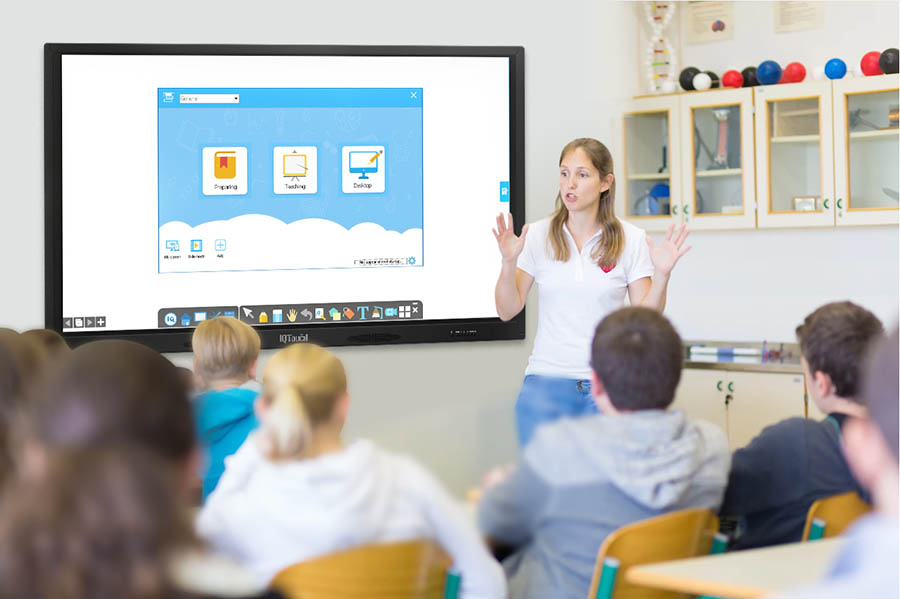 interactive display,interactive flat panel,interactive touchscreen,IQTouch
The glass covering the panel as protective surface
Classroom equipment often have higher demand when it comes to durability. You dont want to be worried every time when the teacher is not there and the students would just break or damage anything they touch. As the centerpiece of classroom device, interactive panel should be covered with at least 4mm toughened glass to make it free from casual accidents. Not to mention some manufacturers even go for the covering glass with 7H hardness.
Another considerable design is to use anti-glare or anti-reflective glass for educational interactive panels, so that wherever you sit in the classroom, your viewing angle would not be compromised because of the light.
Wall-mount bracket or mobile stand
Would you rather fix the interactive panel on the wall or have it adjusted to a mobile stand that goes around Its more of a question of who you are teaching. For classrooms with younger kids it may be better to use a height-adjusted stand so that students can also enjoy the fun of interaction when they feel like it, while for senior schools and higher education institutions, the wall mounting solution is usually considered to make the classroom a more neat and formal teaching environment.
Spend your budget wisely for better service
The market is full of capable vendors who could provide you with the interactive panel that suits your budget the most. The question is, if you ever consider splitting a reasonable amount of money to the aftersales service that different vendors would offer. A lousy installation service may give you great headache since the lifting work of the panel is not an easy one, and they are not often covered in the manufacturers warranty policy. So be careful to choose a trustworthy installer who will enhance your user experience with your new interactive panel, not the other way around.
After all thats been mentioned, we believe now you have some clearer ideas about the topic. If you are still wondering, feel free to talk to us and maybe what you want is just around the corner.