Compare smart MAXHUB UC S10 Pro with intelligent IQMeet Conference Cam CV810
Everyone wants to improve the meeting effect and collaborative experience through a conference camera. But how can we choose the most suitable and valuable conference camera? In this article, we will compare the MAXHUB UC S10 and IQMeet Conference Cam CV810 proto explore the potential of conferences through conference cameras.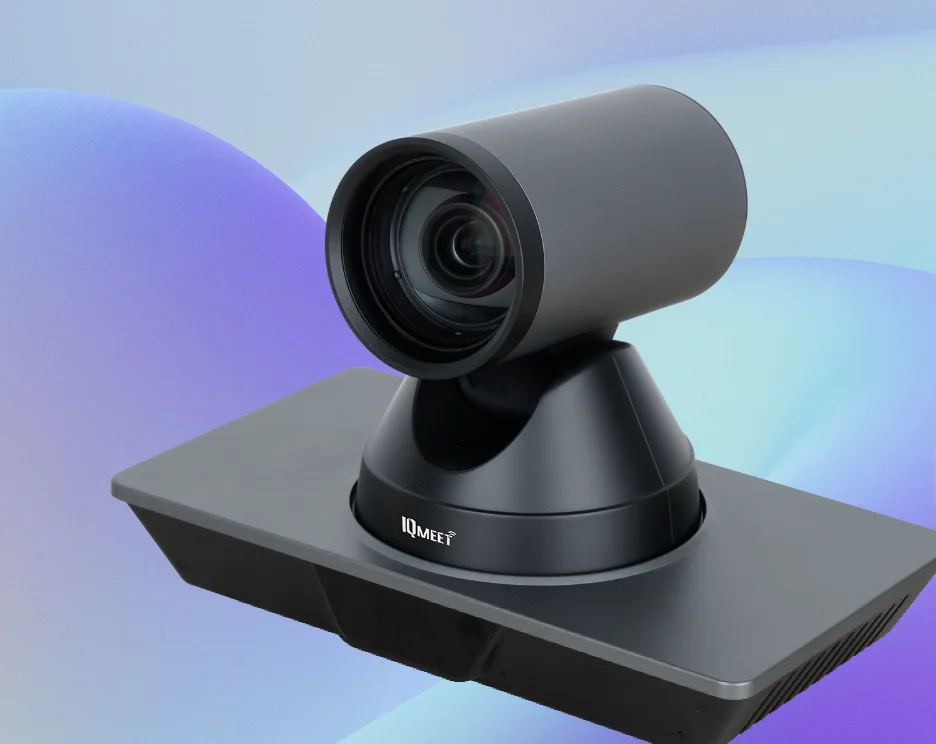 1. Why do you need a meeting camera?
The main reason you need a conference camera is that a suitable meeting camera can help your meeting establish interpersonal relationships and improve communication effectiveness and participation in sessions.
1.1 Provide explicit audio video content
High-quality video images can improve communication and efficiency by minimizing confusion and uncertainties. An effective conference camera can offer clear, high-definition video, allowing participants to easily observe each other's facial expressions, body language, and details. And can enhance the effectiveness of in-person communication during meetings.
1.2 Real-time display and sharing of content
Conference cameras help to display and share content, such as whiteboard presentations, documents, and product samples. By placing the content within the camera's scope, other attendees can watch and participate in discussions in real time, improving the interactivity and engagement of the meeting.
1.3 Support for remote participation and collaboration
The high-quality video and audio transmission capabilities of the conference camera enable remote participants to participate in the conference in an immersive manner. They can watch the meeting content in real-time through their cameras, participate in discussions and decision-making, and enhance remote collaboration and collaboration effectiveness.
2. Tips for choosing the conference camera
When selecting conference cameras, consider their video quality and resolution, optical and digital zoom, integration with cloud services and remote control, and interactive function.
2.1 Video quality and zoom function
A higher-resolution conference camera can provide a better visual experience and enhance interactivity. High-definition videos can give clear and realistic images, allowing attendees to accurately see other attendees' facial expressions and details.
Optical and digital zoom are essential features that allow you to focus on specific people or objects during meetings. Optical zoom enlarges images without losing image quality through physical lens adjustments, while digital zoom enlarges images through image processing. Combining these two zoom functions can provide greater flexibility and focus control, enhancing the interactivity of attendees.
2.2 Cloud integration and remote control
Capable of integrating and controlling cameras through cloud platforms or remote control software, enabling remote management, preset position settings, image adjustment, and other functions. This integration and control capability can improve the flexibility and convenience of meetings, allowing attendees to operate and adjust their cameras easily.
2.3 Interactive gesture recognition function
Some advanced conference cameras have interactive functions technology. The interactive process allows participants to control the camera's operation through gestures or voice, such as adjusting the focus and switching perspectives.
Furthermore, our previous articles also discussed various factors when choosing a conference camera, including image quality, optical and digital zoom, autofocus, microphone, connectivity, functionality, volume and weight, and price. You can click here to guide you in selecting the conference camera most conducive to enhancing team collaboration in your meeting.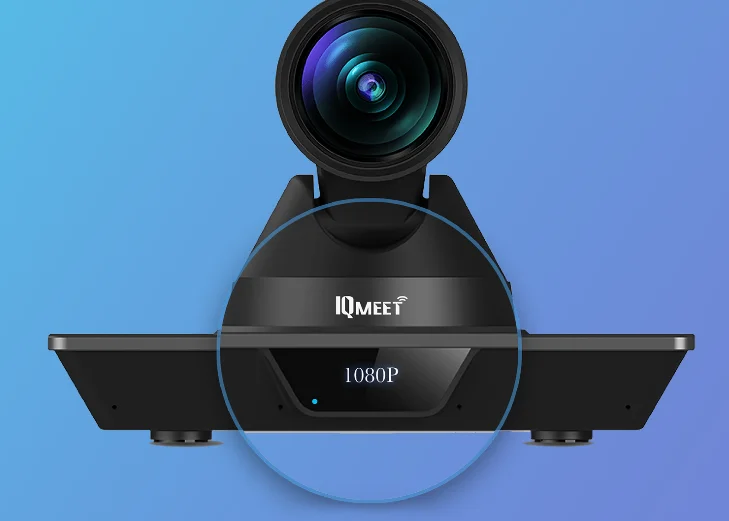 3. IQMeet Conference Cam CV810
With advanced technology, the cutting-edge IQMeet Conference Cam CV810 Pro can take your video conferencing to a new level. It experiences stunning clarity with 4K ultra high-definition resolution at a speed of 60 frames per second, ensuring excellent accuracy in capturing every detail. 12x optical zoom allows you to focus on specific participants or objects in the room. And 16x digital zoom further enhances the level of detail, bringing you closer to reality.
3.1 Specifications
Optical zoom: 12 x
Filed of View(FOV): Horizontal: 6.55'(tele) ~ 69.4 (wide)vertical: 3.66°(tele) ~ 42.8" (wide)
lmage Sensor: 1/2.8 Inch SONY CMOS Sensor
Frame Rate: 4K@30fps
Effective pixels: 8.51M; 16:9
White Balance: Auto/ Manual / Shutter Priority / Aperture Priority / Brightness Priority
Exposure mode: Auto / Manual/ One Push/ Specified Color Temperature
Focus: Auto / Manual/ One Push
Video Adjustment: Brightness, Color, Saturation, Contrast, Sharpness, B/W mode, Gamma curve
SNR: 250dB
3.2 Reasons to buy
3.2.1 Excellent image quality
The image is clear and realistic when adopting Sony CMOS sensors, supporting the highest resolution of 8.5 million pixels in 4K UHD.
3.2.2 12x optical zoom
Optical zoom can present detailed and distinct 4K images, helping to obtain close-up or long-distance pictures of different scenes.
3.2.3 Low noise
High-precision PTZ of CV810 Procan make moves completely silently during the shooting process without affecting the audio-visual effect.
3.2.4 Intelligent autofocus
Intelligent CV810 Pro adopts advanced autofocus algorithms. The image remains clear and focused, even when the camera is moving or zooming in.
3.2.5 Gravity sensing automatic flipping
Equipped with a built-in gravity sensor, it supports automatic rotation of the image direction after installation in a clockwise or counterclockwise direction without manual settings.
3.2.6 Up to 255 preset positions
Powerful CV810 Pro supports setting many preset positions for quick switching, with powerful remote control functions.
3.2.7 Global Service Support
The product quality of CV810 Pro is reliable and guaranteed by global service, making it cost-effective in conference applications.
3.3 Other versatile function
Multifunctional ports of CV810, including HDMI 2.0, USB 3.0, and LAN, for audio and video output. Plug and play, and you can start a video conference anytime. In addition, the LAN port connection on CV810 Pro enables web-based control and RTSP/RTMP streaming, allowing you to easily connect real-time video content to any online broadcasting platform, including YouTube.
3.4 Application scenarios
Many scenarios can apply CV810.



3.4.1 Meeting room scenario
Connect IQMeet Conference Cam CV810 Pro to the large screen or projector in the conference room through the USB connection, enabling video conferencing with remote conference members. Transmit and display each participant's images, equivalent to an actual participant.
3.4.2 Classroom scene
Install IQMeet Conference Cam CV810 Pro in front of the classroom and connect it to an online teaching laptop through USB. The teacher's annotation and teaching in front of the whiteboard will be captured by IQMeet Conference Cam CV810 Pro and transmitted to remote teaching students in real time.
3.4.3 Medical scenario
Doctors in remote areas can fix IQMeet Conference Cam CV810 Pro in the consultation room and conduct video consultations with professional doctors through video software. Professional doctors can view the patient's facial expressions, movements, and even injured areas in detail, and provide remote consultation guidance.
3.4.4 Workplace scenario
Install IQMeet Conference Cam CV810 Pro in a small conference room or workspace, and team members can participate in video conferences through intelligent devices for on-site communication, real-time interaction, promoting collaborative work.
4. MAXHUB UC S10 Pro
Whether you are attending a video conference or sharing content, high-definition videos of MAXHUB UC S10 Pro ensure apparent visual effects, allowing each participant to see facial expressions, gestures, and essential details. Experience excellent video performance with MAXHUB UC S10 Pro, allowing you to bid farewell to pixelated or blurry video sources and embrace a genuinely immersive collaborative experience.
4.1 Specifications
Digital zoom: 5 x
Filed of View(FOV): 120°viewing angle
lmage Sensor: 1/2.3 inch CMOS, 12MP
Frame Rate: 4K@30fps
lmage Adjustment: horizontal flip, vertical flip
White Balance: Auto (only)
Sound device: full-range speaker, 6-element microphone array
Focus: auto-framing, auto-tracking
Video Adjustment:
HDMI OUT: HDMI 2.0
4.2 Reasons to buy
4.2.1 Full-range audio experience
Integrated high fidelity speakers and 6-element microphone array, supporting complete fan voice detection, providing a clear and smooth conversation experience.
4.2.2 High-definition visual output
Pre-installed software defines a 4K solution that supports 4K@30fps work through a USB-C connection.
4.2.3 High security
Supports digital certificate and password verification to prevent illegal monitoring of conference content leakage.
4.2.4 Pricing discount
MAXHUB UC S10 Pro is highly cost-effective, especially suitable for small and medium-sized teams' remote work and collaboration needs.
4.2.5 After-sales support
MAXHUB provides comprehensive technical support and upgrade service guarantee to meet long-term usage requirements.

Summary
In conclusion, the versatile IQMeet Conference Cam CV810 Pro's excellent video quality, professional audio features, and integrated system can create a seamless and immersive collaborative environment. The MAXHUB UC S10 Pro may be your best choice Iff you prefer a diverse and integrated design. However, if you are interested in IQView Document Camera E6510, please click here to contact us.
Here are some other articles that we think might interest you:
Elevate Remote Work with IQMeet Conference Camera
Why AI Camera is Indispensable for an Ideal IFP Display?